Mobile-Image : ///M-Magic
01-03-2009, 08:04 PM
Carn
Waxon Sponsors


Posts: 2,724
Joined: Jul 2008
Reputation: 6
Mobile-Image : ///M-Magic
This weekend saw yet another trip out to the Michelangelo to detail one of the same clients other vehicles, a black Z4 M Coupe. I must be honest and say this particular car has never really tickled my fancy but having spent some time in and around it this past weekend, thats all changed!
The day started out as usual, rise and shine around 7:30 before setting off just after 8 to the
Michelangelo. This is the vehicle we were greeted with when we arrived.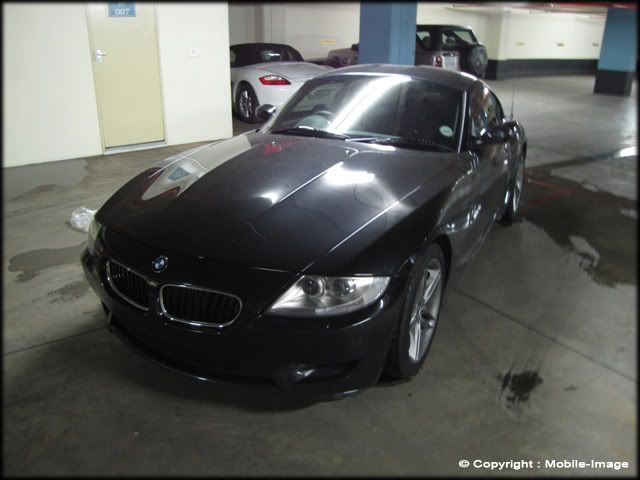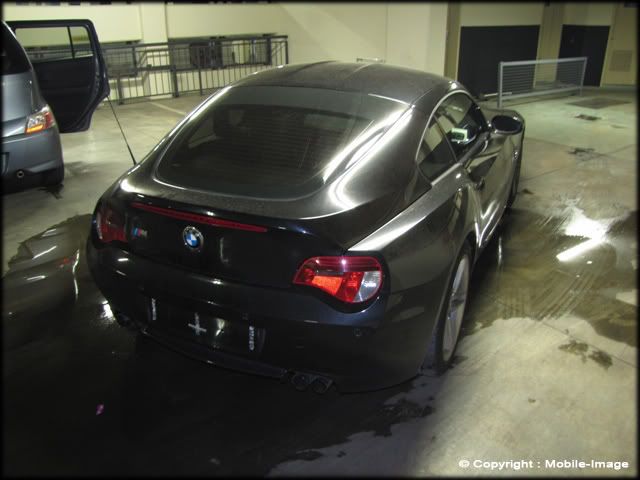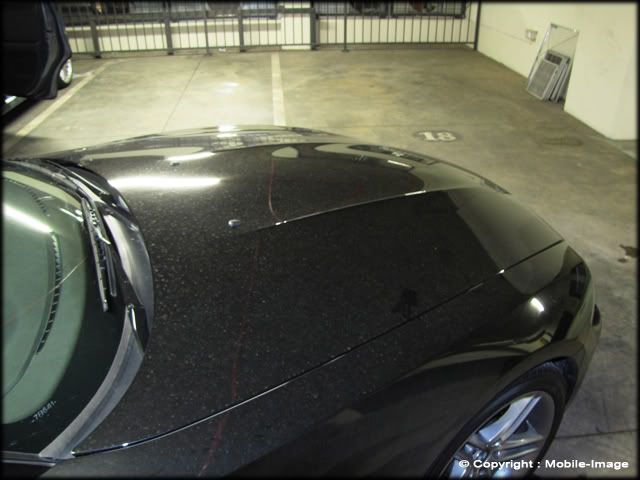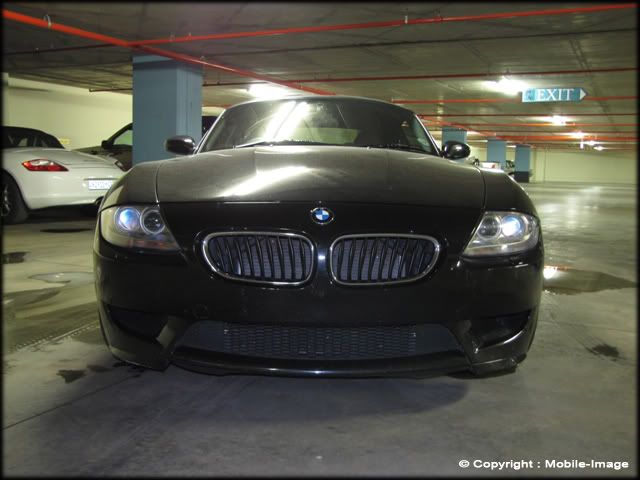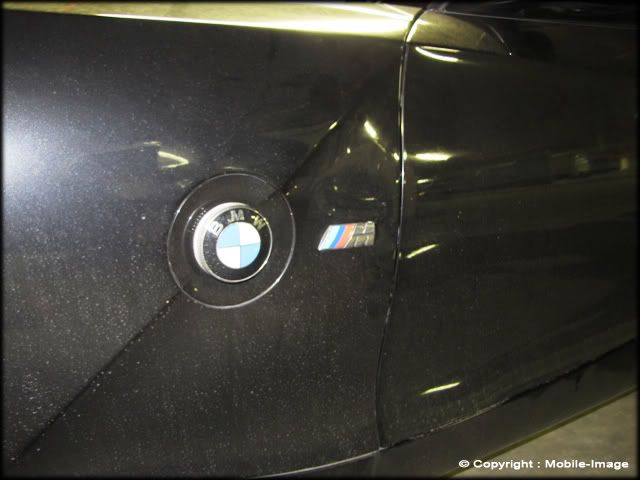 The car was quite dirty from having been caught in the rain at some point, but overall appeared to be in good shape. As always though it is difficult to tell until the car has been properly cleaned, so into the wash bay she went.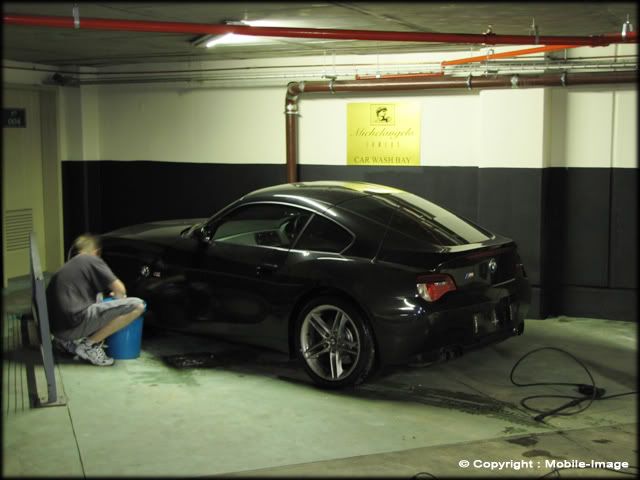 The size of the Z4 made washing alot easier and we managed to keep almost all of the water within the drainage area this time so we wouldn't need our flippers whilst detailing later on

As usual we started with the wheels which recieved a good soaking of Sonax Xtreme Rim Cleaner before being scrubbed with various brushes and then rinsed down.
Before
Sonax Xtreme doing it's thing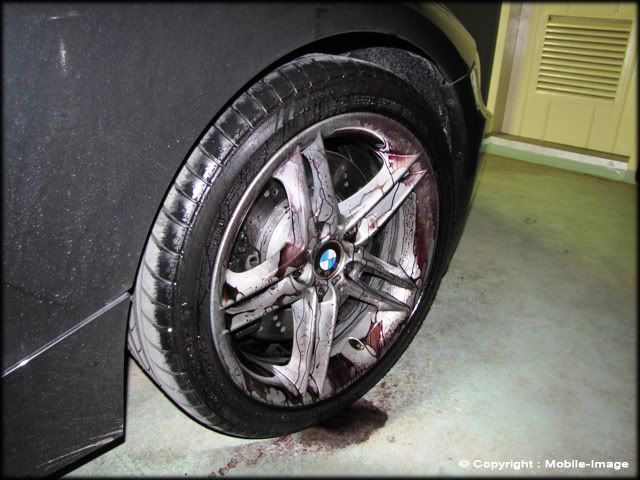 And washed and dried a little while later
With the wheels out of the way we proceeded to rinse the car twice with the PW to try and remove as much of the dust as possible before washing with Duragloss 901 and Meg's Deep Crystal. The vehicles paint was silky smooth all over so we elected to skip the claying process as we felt it wasn't necessary at all.
Once washed it was thoroughly rinsed and dried before being moved into the parking bay to assess the paintwork and get taped up ready for correction work. Needless to say we had our work cut out for us as evidenced by the selection of pics below highlighting some of the various defects we found.
Swirling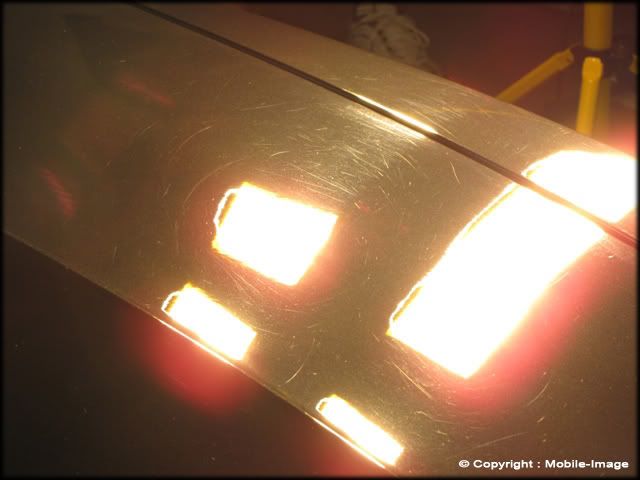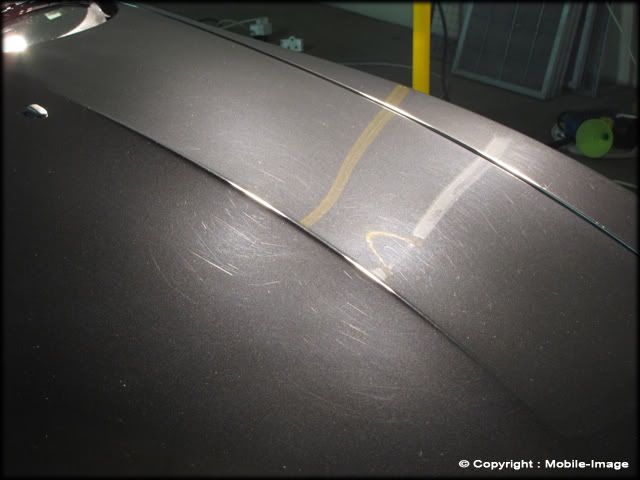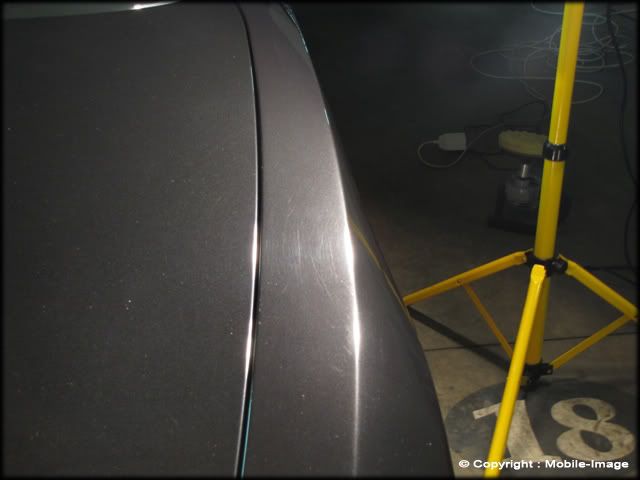 Holograms and RIDS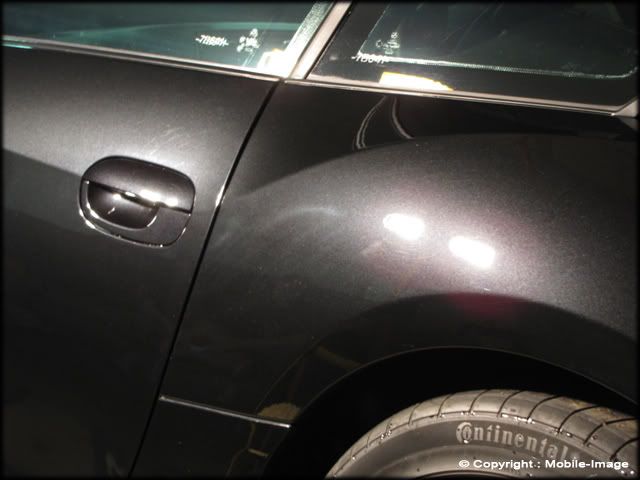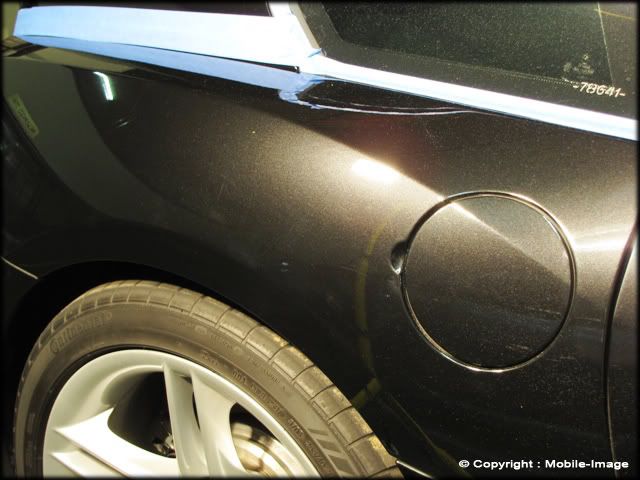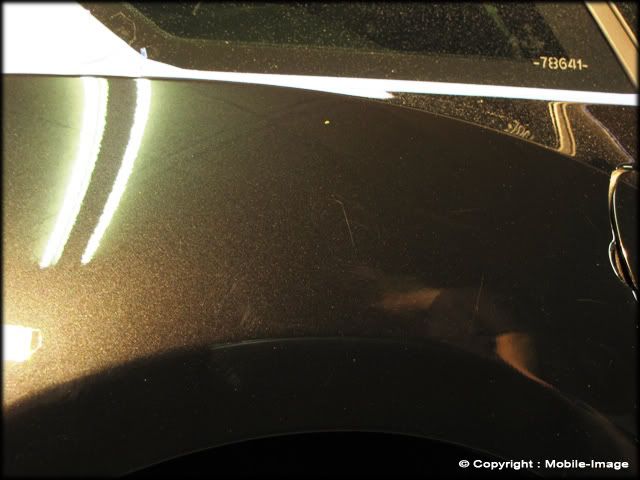 Road rash
With the taping and inspection out of the way we proceeded to test various combo's to find the one best suited to restoring the finish to the ///M. At the end of the day we settled on a 50/50 mix of SIP and 106FA on yellow 3M pads worked via rotary at 1500-1800rpms. This combination knocked back almost all of the swirls and other defects leaving only the deeper RIDS behind.
No action shots this time around but here are a selection of progress pics from throughout the day.
Bonnet fully corrected
And some close-ups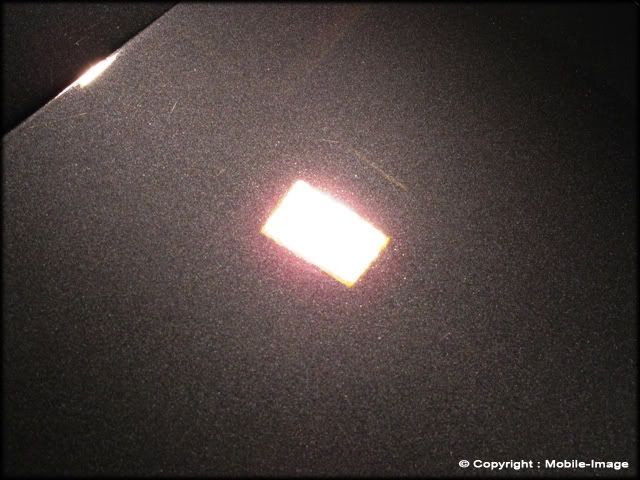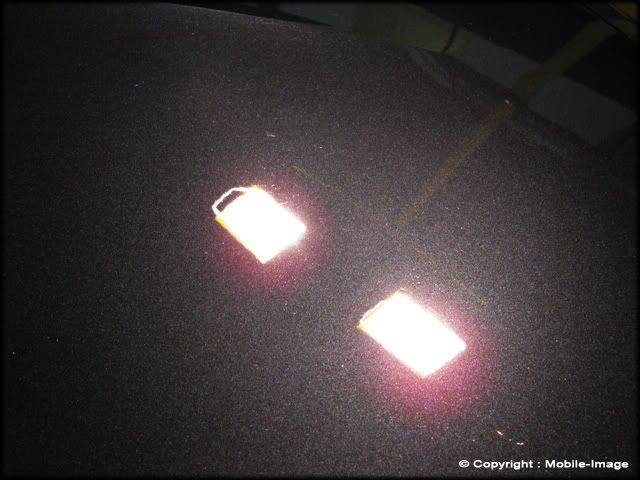 Couple of remaining RIDS to the right on the fender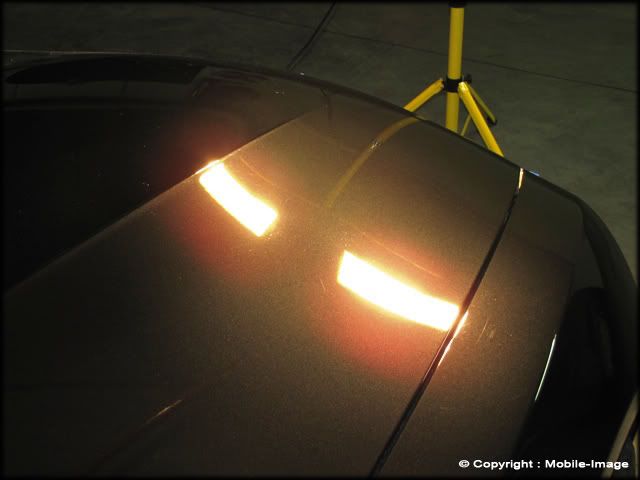 Doors and front fenders tidied up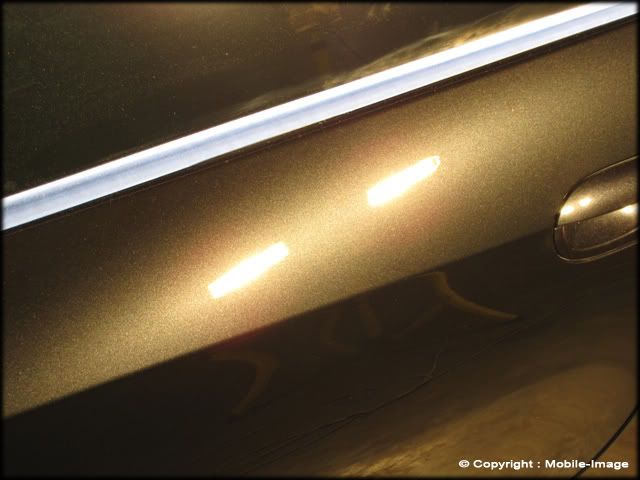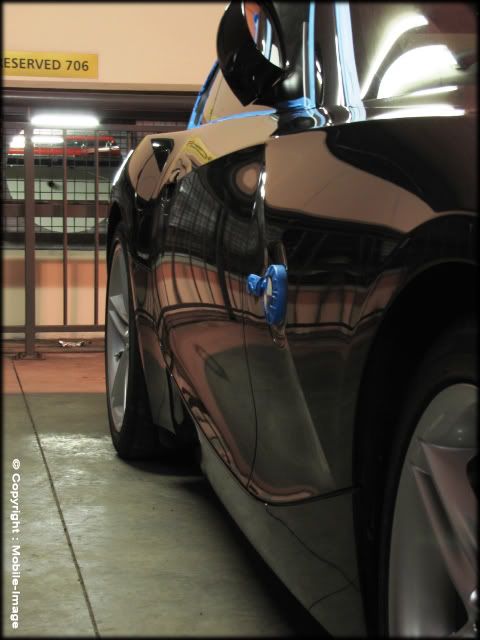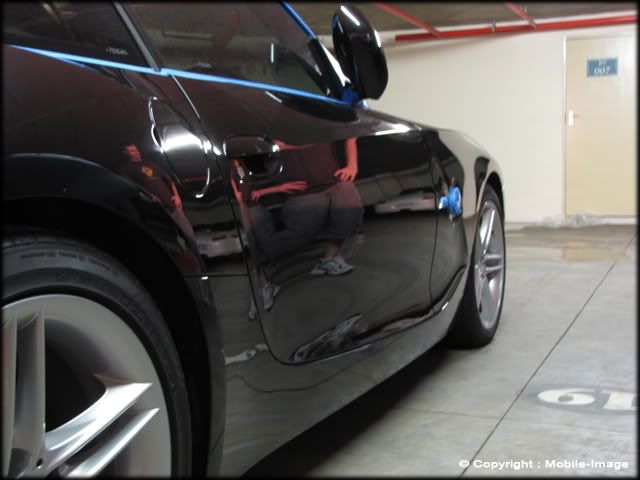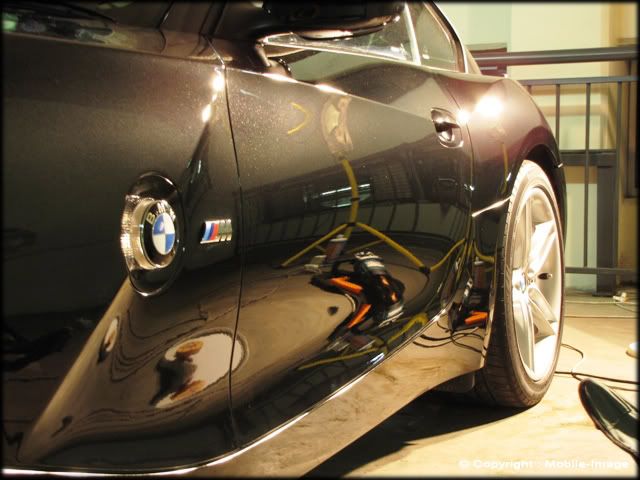 Rear fenders corrected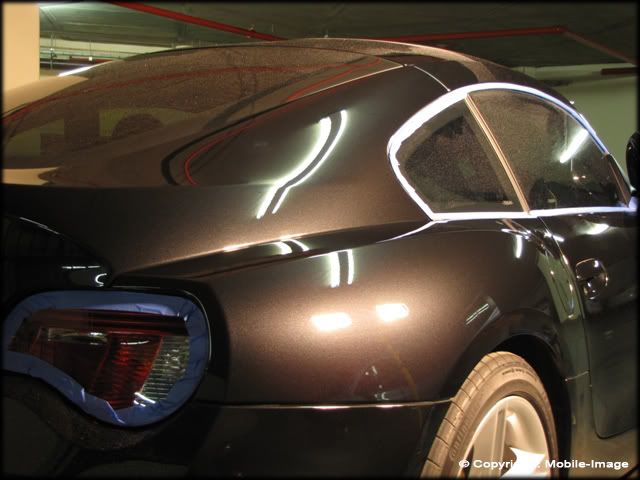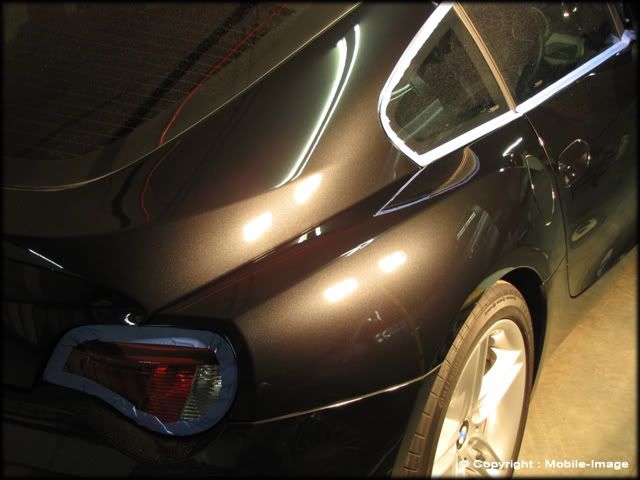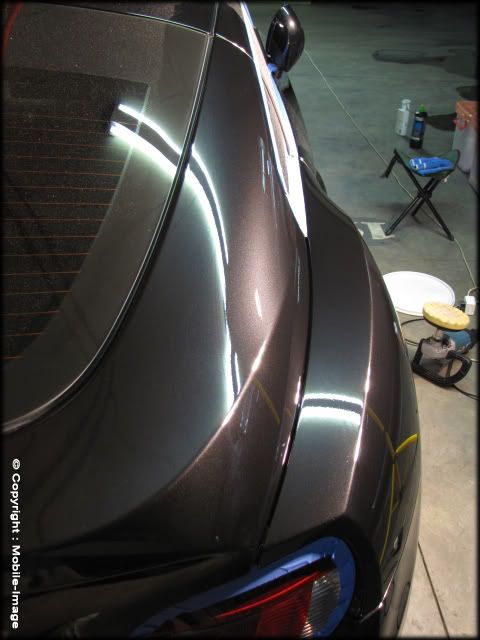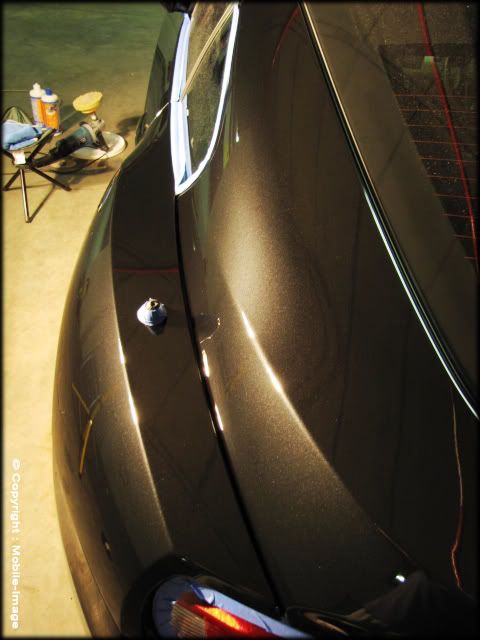 Close-up again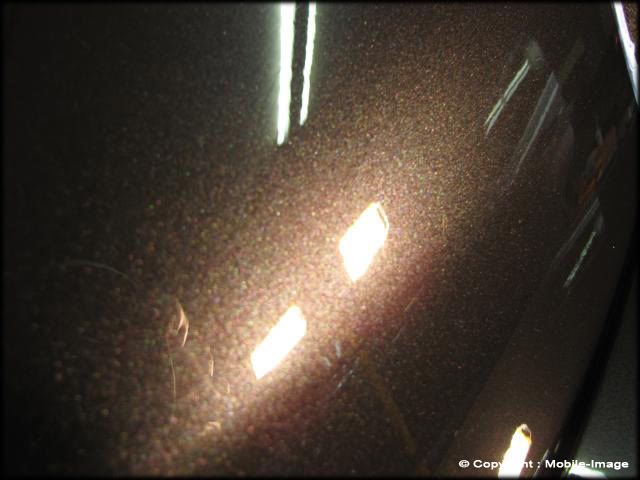 Rear end action
PDC sensor exploded and lodged itself in my face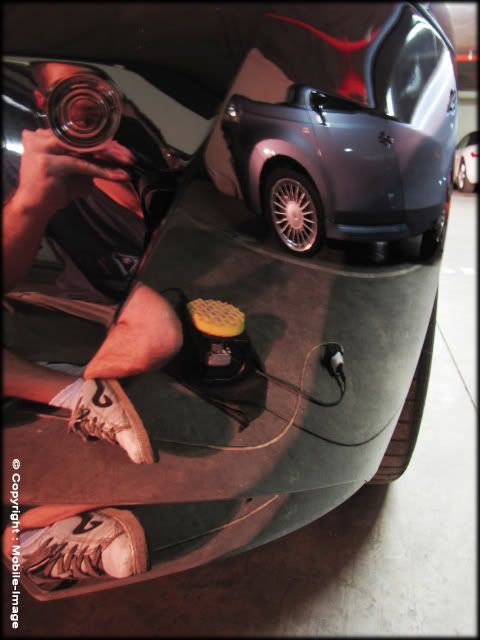 Battlefield at noon
With the correction work completed we set about giving the car a final rinse and wash down before being dried off ready for the final touches.
In the bay again, this time prettier than before and better than new.
Couple of reflection shots after washing before any LSP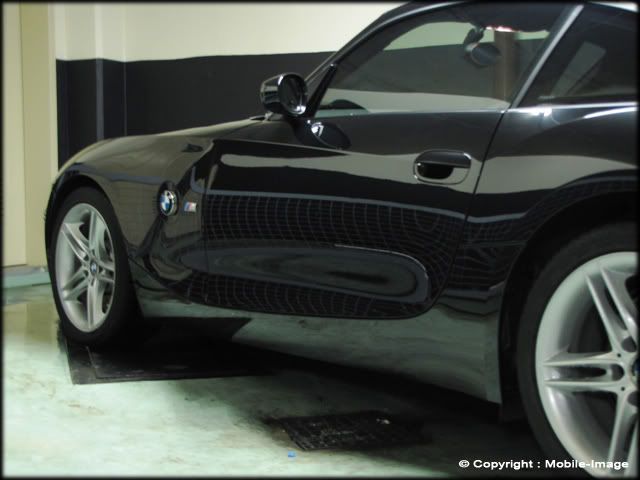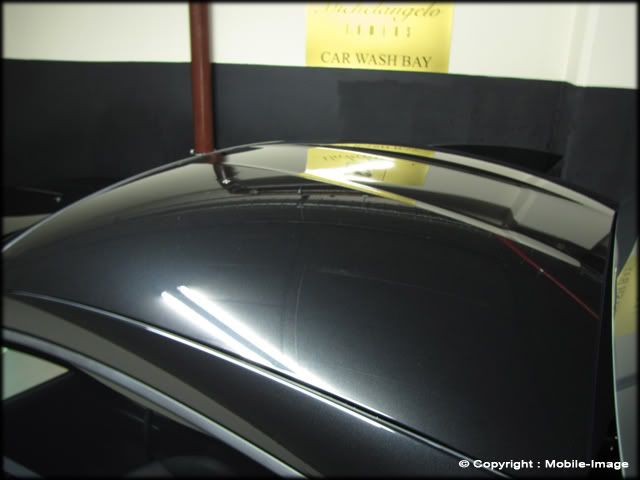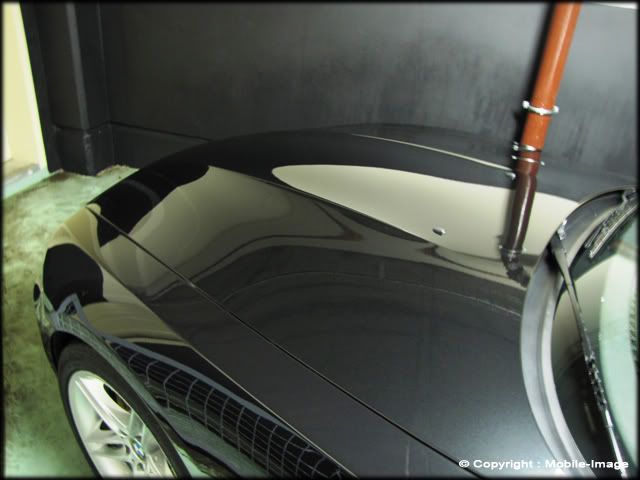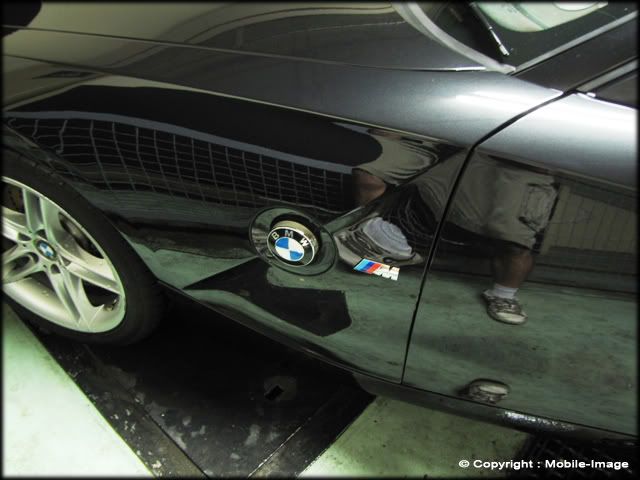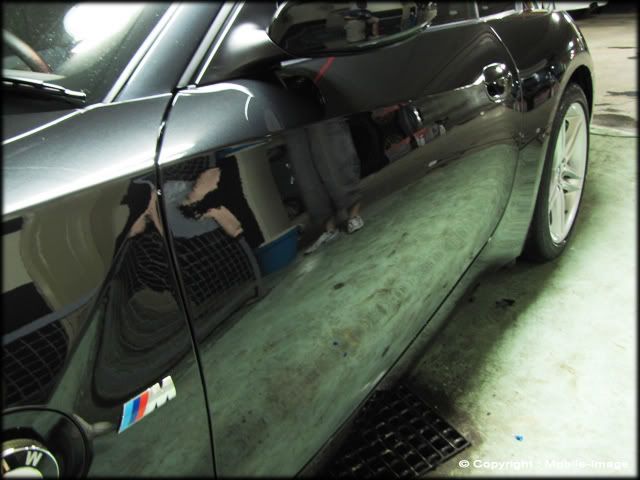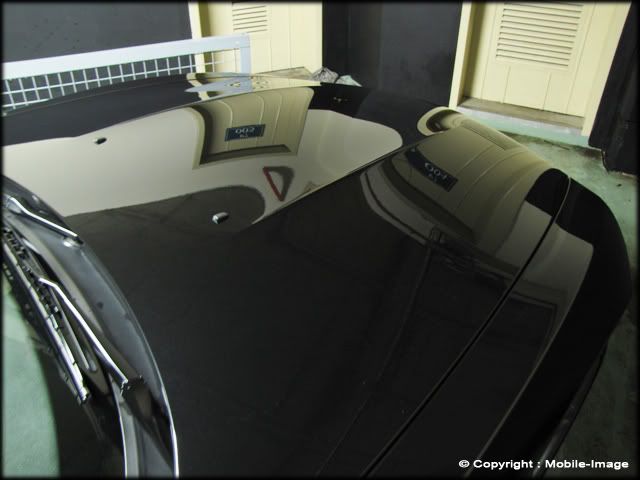 After washing the ///M one last time we pulled her back into the parking bay to finish up. Whilst Grant set about tidying up the interior I proceeded to do a maintenace wash on the clients SLK55 AMG we detailed 2 weeks prior. At the time we detailed the SLK I forgot my camera at home so I mad use of this opportunity to snap some photies.
Reflection in the wash bay after the wash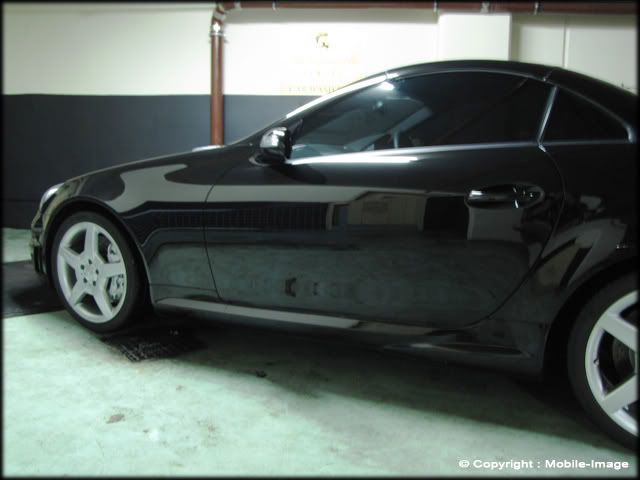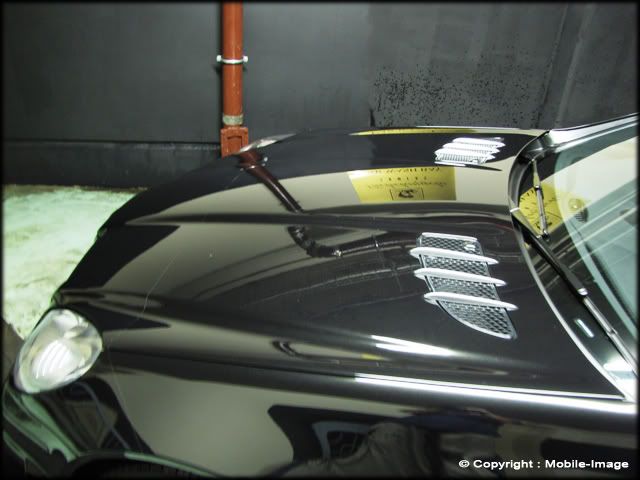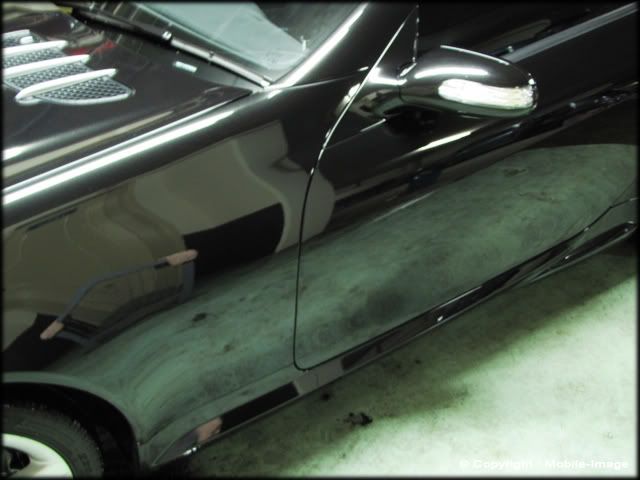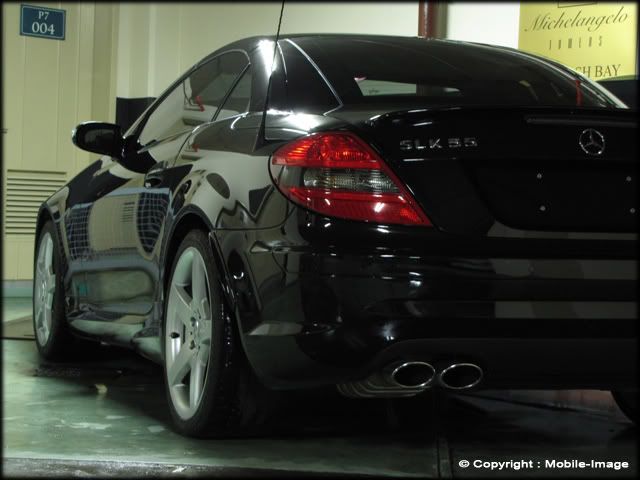 With both cars washed and the finishing touches applied we proceeded to snap some pics and try to get some interesting pictures of the 2 beasts.
The SLK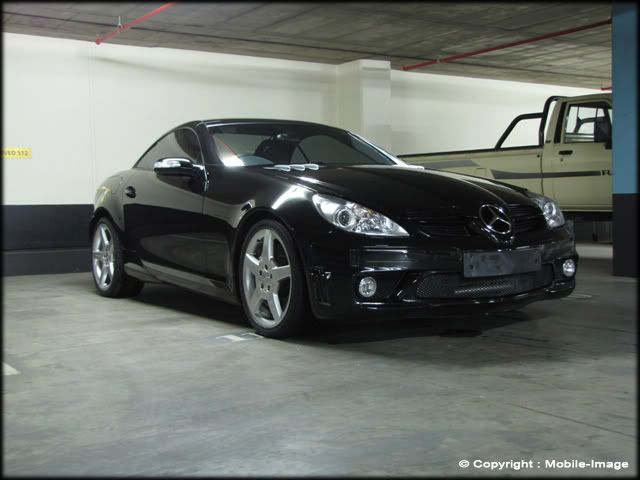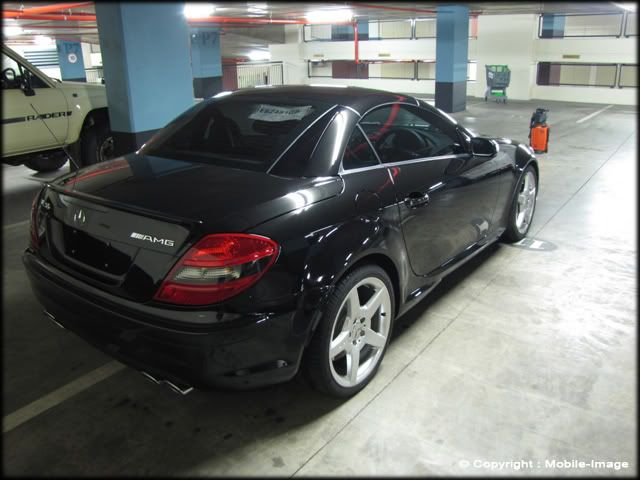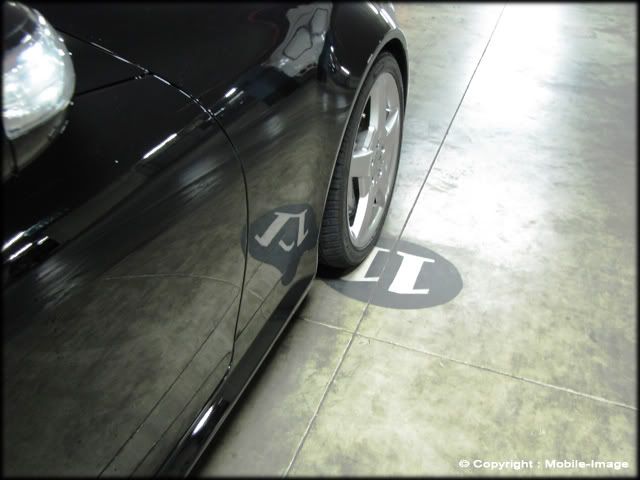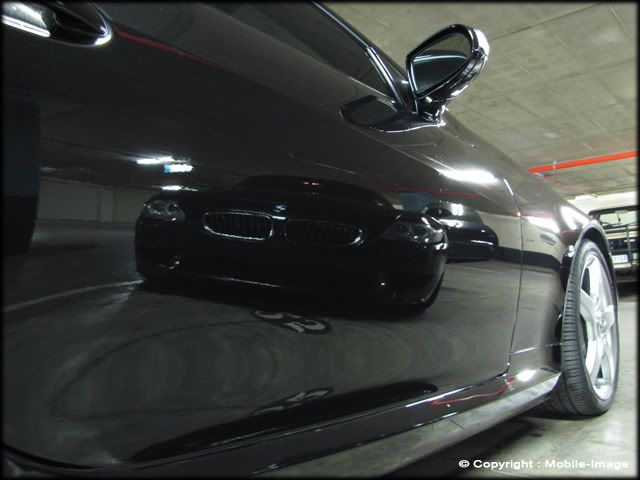 The ///M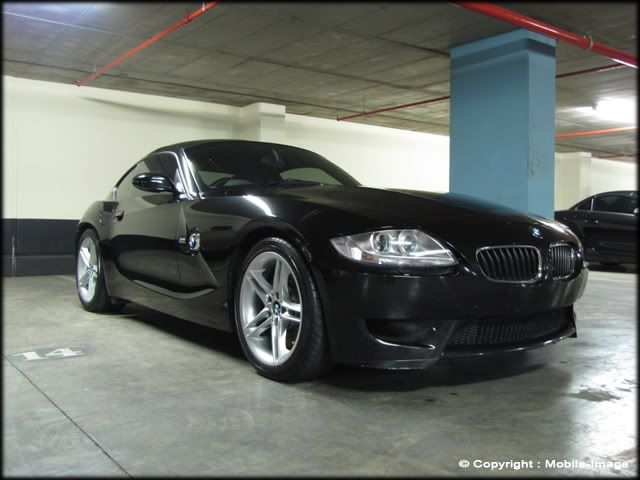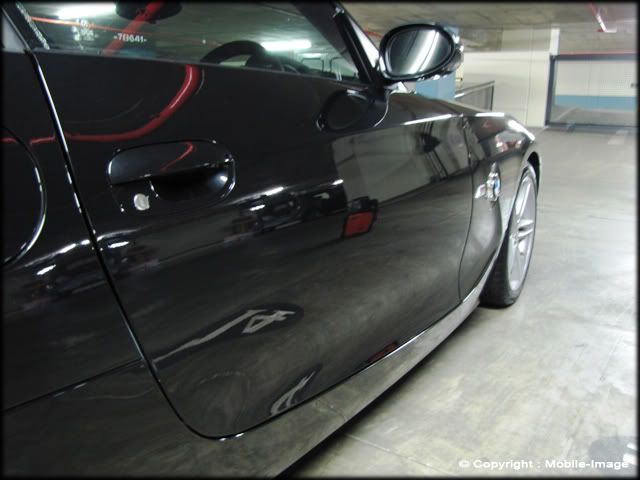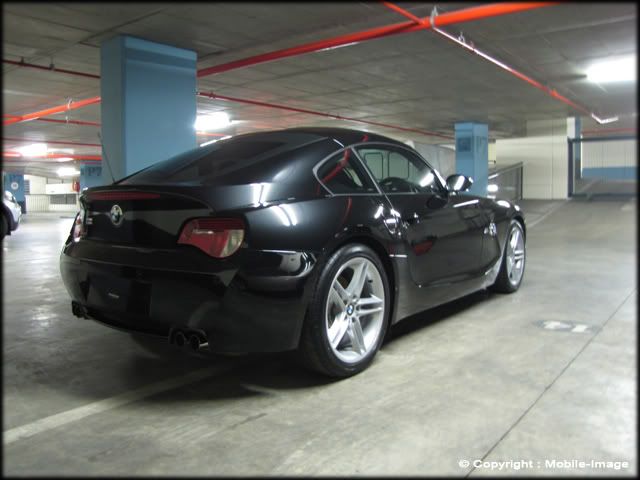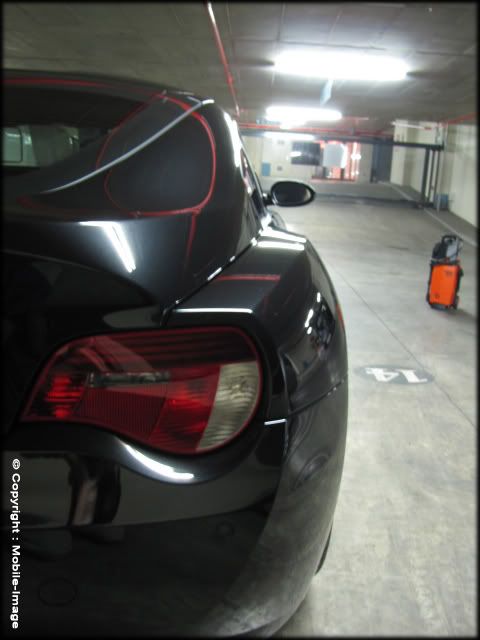 Arch enemies by day and parking buddies by night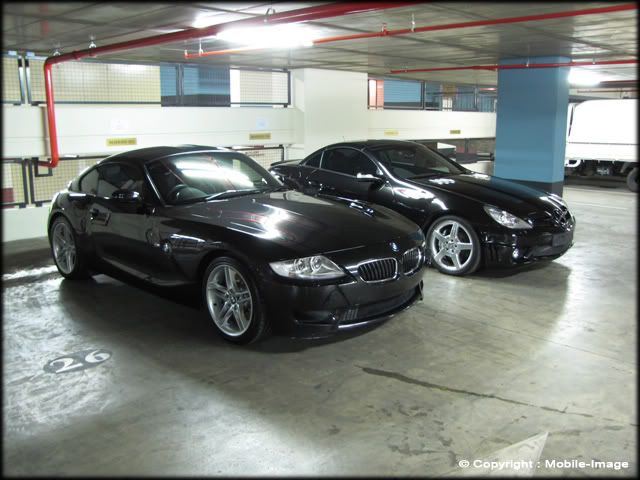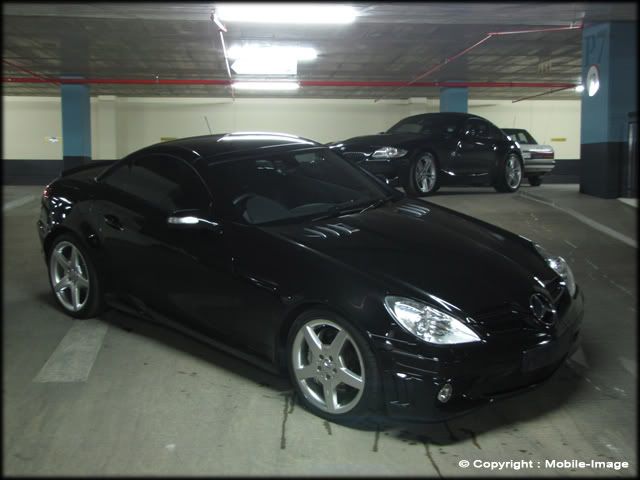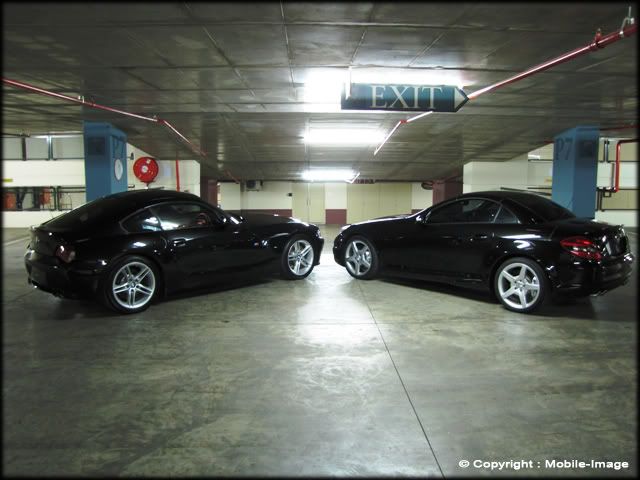 Head to head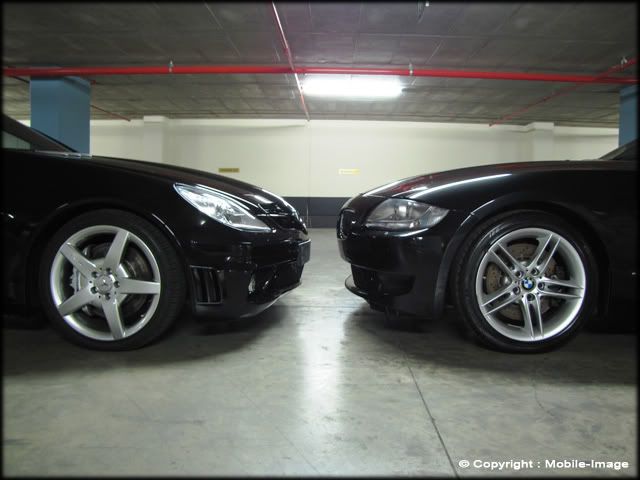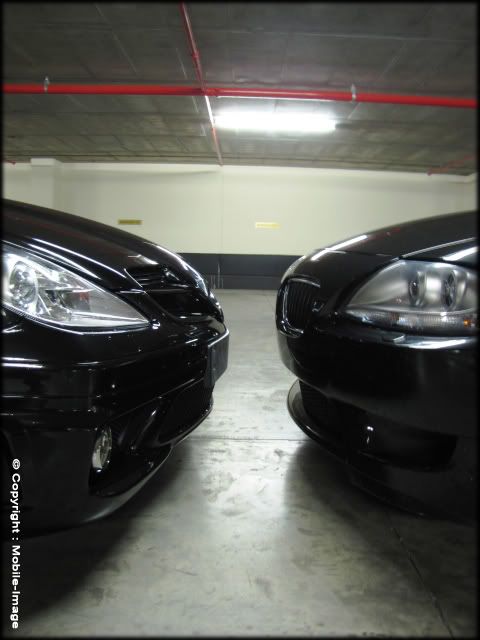 With all our photies taken and everything packed up we hit the road just after 9:30. Whilst stopped for a snack we spotted this at the filling station!
Holy holograms Batman!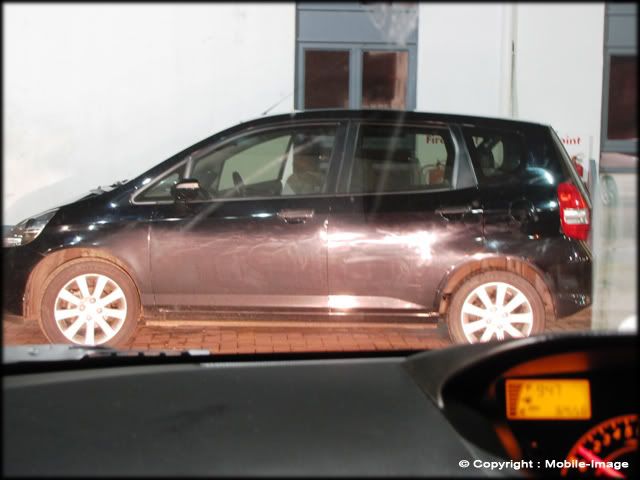 I have yet to see a car covered in holograms as badly as this one was, it was a wreck !
Overall it was yet another fun filled day in the depths of the Michelangelo, we both admitted we will really miss the place when the client runs out of cars for us to detail. Next week another C-Class for the same client....see you then and thanks for looking

---
David : 083 642 2118


www.mobileimage.co.za





01-03-2009, 11:24 PM
springbok
Detailing Guru


Posts: 874
Joined: Jun 2008
Reputation: 0
RE: Mobile-Image : ///M-Magic
How many bloody cars does this guy own???

What LSP did you use?
02-03-2009, 09:12 AM
rustbucket
Honorary Member.


Posts: 127
Joined: Jul 2008
Reputation: 0
RE: Mobile-Image : ///M-Magic
I just loved starting this car up.
Sounds like a jungle Tiger thats just had its tail bitten by a rabbid mouse.

---
02-03-2009, 09:22 AM
freerider
The Founding Father


Posts: 1,845
Joined: Jun 2008
Reputation: 2
RE: Mobile-Image : ///M-Magic
Looking very good boys! that M coup is simply

---
freerider AKA don




02-03-2009, 01:38 PM
onyx
Detailing Guru


Posts: 793
Joined: Dec 2008
Reputation: 0
RE: Mobile-Image : ///M-Magic
Superb work guys!

What in the world does this client of yours do for a living?!?!?!?
BTW what rotary are u guys using?
---

02-03-2009, 06:45 PM
Carn
Waxon Sponsors


Posts: 2,724
Joined: Jul 2008
Reputation: 6
RE: Mobile-Image : ///M-Magic
Thanks boys

Onyx, Grant has a Fragram and I have a Makita. Both are practically identical

---
David : 083 642 2118


www.mobileimage.co.za





02-03-2009, 09:56 PM
Starvekos
Official Detailer


Posts: 443
Joined: Jul 2008
Reputation: 3
RE: Mobile-Image : ///M-Magic
Excellent work guys and lovely pics
03-03-2009, 04:17 PM
08micsta
Fledgeling Detailer


Posts: 155
Joined: Oct 2008
Reputation: 0
RE: Mobile-Image : ///M-Magic
Lovely work and brilliant pictures albeit slightly over exposed.

The BMW Z4 is pure sex. End of. I love it.

Mike
---



** Still thinking of something intelligent to say... **

:icon9:
03-03-2009, 08:12 PM
Carn
Waxon Sponsors


Posts: 2,724
Joined: Jul 2008
Reputation: 6
RE: Mobile-Image : ///M-Magic
Thanks guys, appreciate the feedback

---
David : 083 642 2118


www.mobileimage.co.za






User(s) browsing this thread: 1 Guest(s)