Mobile-Image : Sprint Blue Challenge (90+ Pics)
04-01-2009, 03:03 PM
Carn
Waxon Sponsors


Posts: 2,724
Joined: Jul 2008
Reputation: 6
Mobile-Image : Sprint Blue Challenge (90+ Pics)
Friday saw the arrival of yet another VAG machine to the Mobile-Image Detailing Emporium

This time around we were treated to the arrival of a meticulously maintained sprint blue Audi S3, easy peasy we figured after the good results we had on the sorry looking red S3 we attended to weeks before....Man alive were we wrong, this beauty was as tough as nails and despite the relatively mild swirling still required some of the most aggresive polishing combo's we have yet to attempt. Audi's have been widely noted as having some of the hardest paint on the planet, and this one certainly lived up to that standard

Let's start on the regular bits before getting into some detail on the insanely tough paint and how we finally managed to achieve some decent results. As expected the car arrived looking in pretty prestine condition with only the mildest of swirls along with a few nasty bird bomb and water etchings along with one or 2 slight RIDS. Again no full befores, this time however it would have been pretty pointless considering the almost spotless condition on arrival

The client left us with his camera and requested that we document some of the work and progress for him, we gladly oblidged and used all of the pics form his camera for this writeup (thanks Sven

)
Defects
Some of the defects, as I said very light swirling with some RIDS and etchings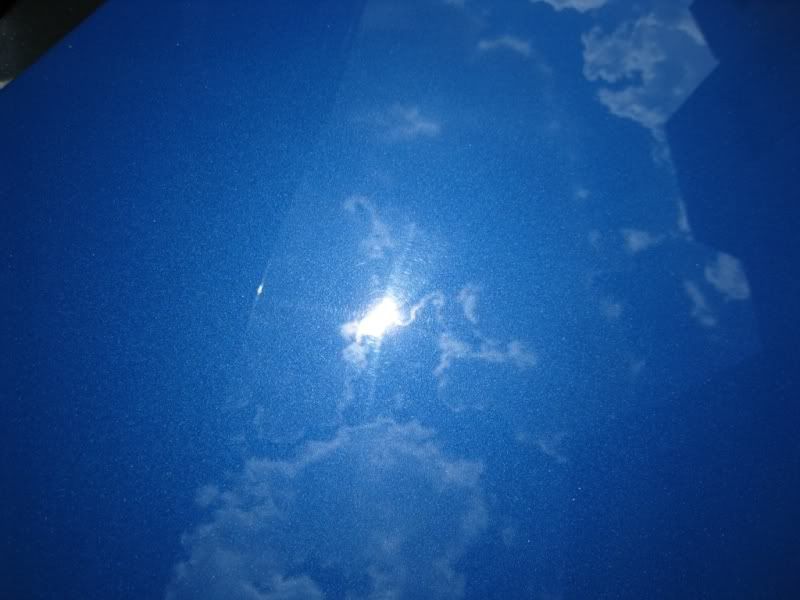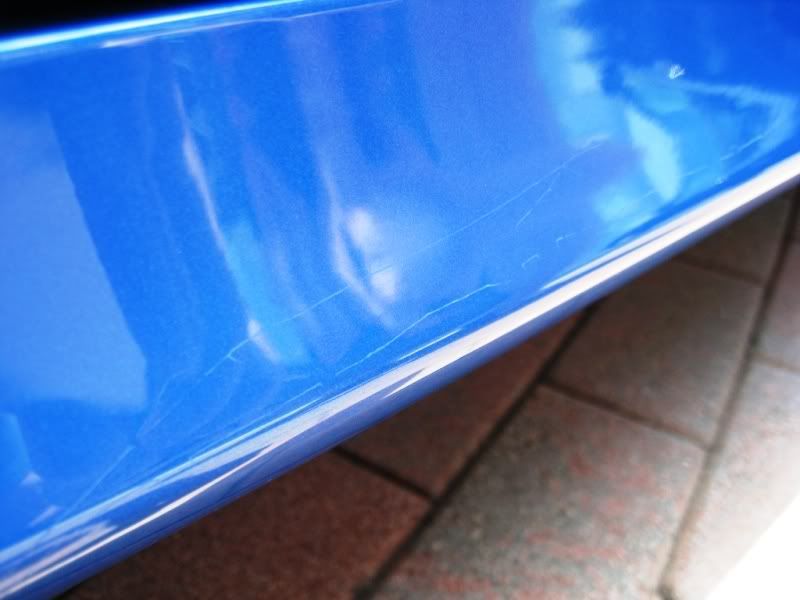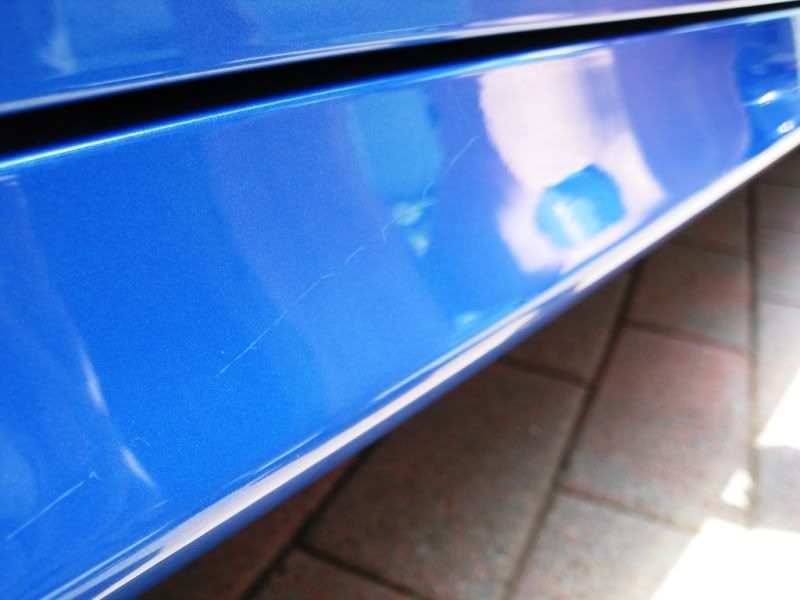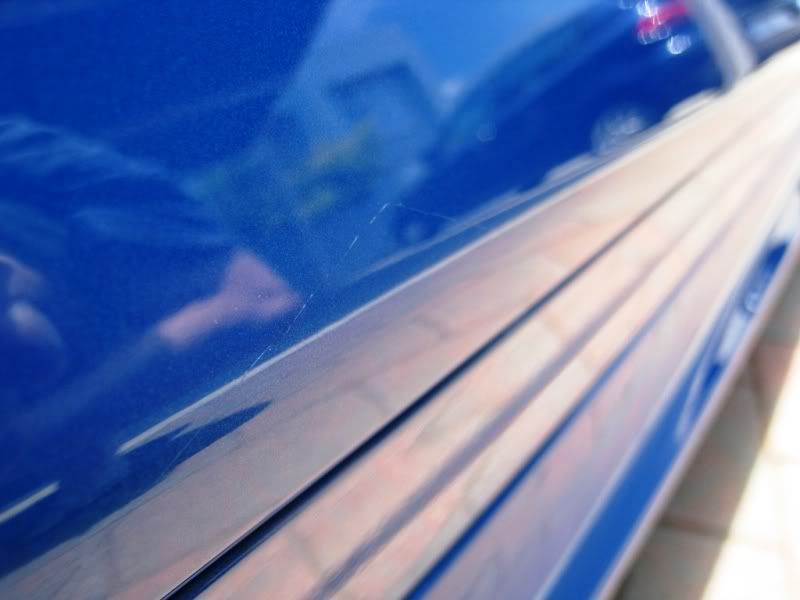 Getting started - The nitty gritty
1st up was the wheels along with all the other small odds and ends
Sonax Extreme Rim Cleaner doing it's thing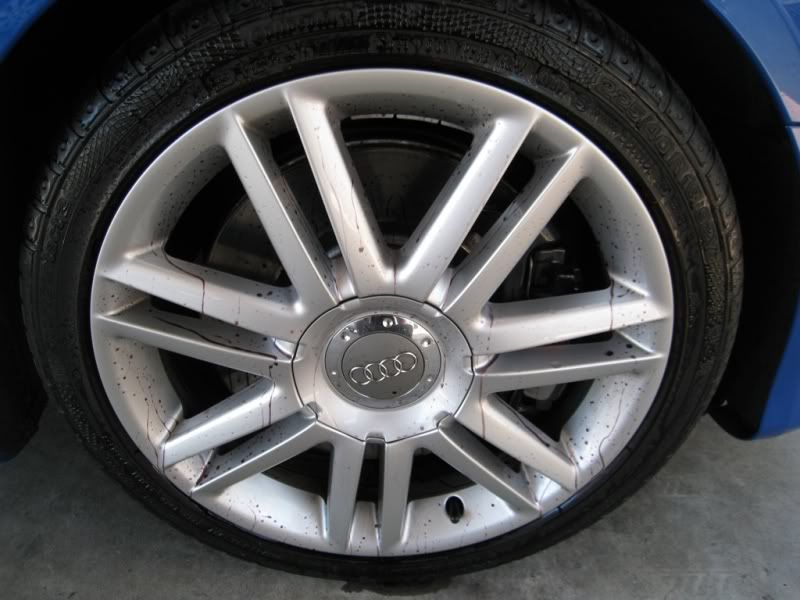 Moto-Quip Meg's knock off doing duty in the barrels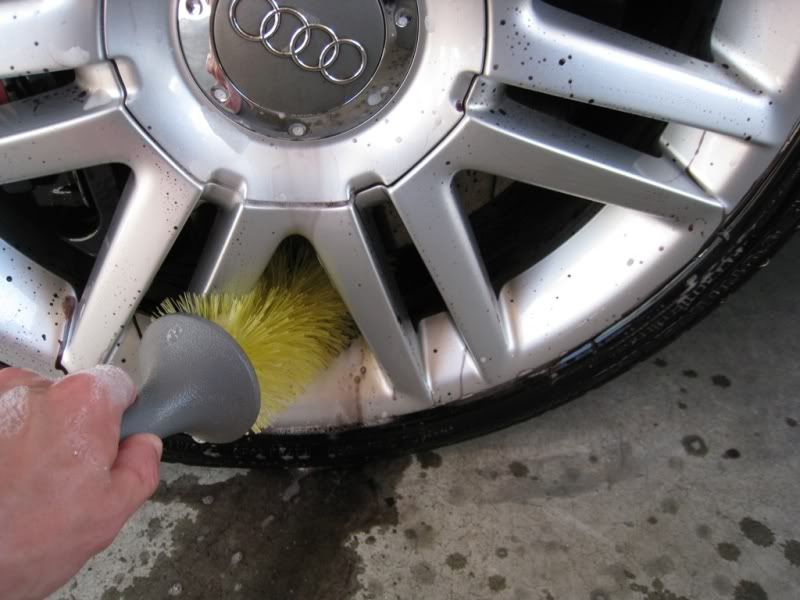 Mobile-Image Detail Brush in action
Emblems and other small areas cleaned with 4:1 APC and our Mobile-Image detail brushes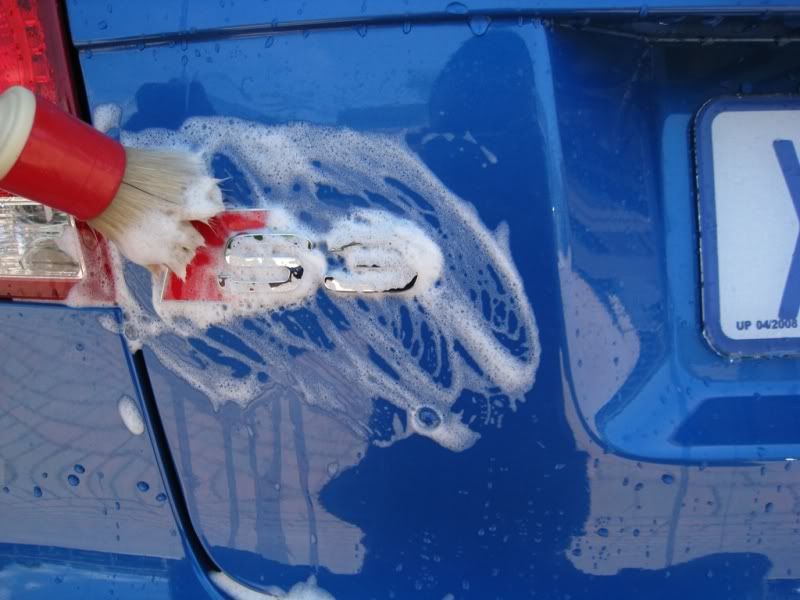 Black & Decker PW tasked with rinsing duty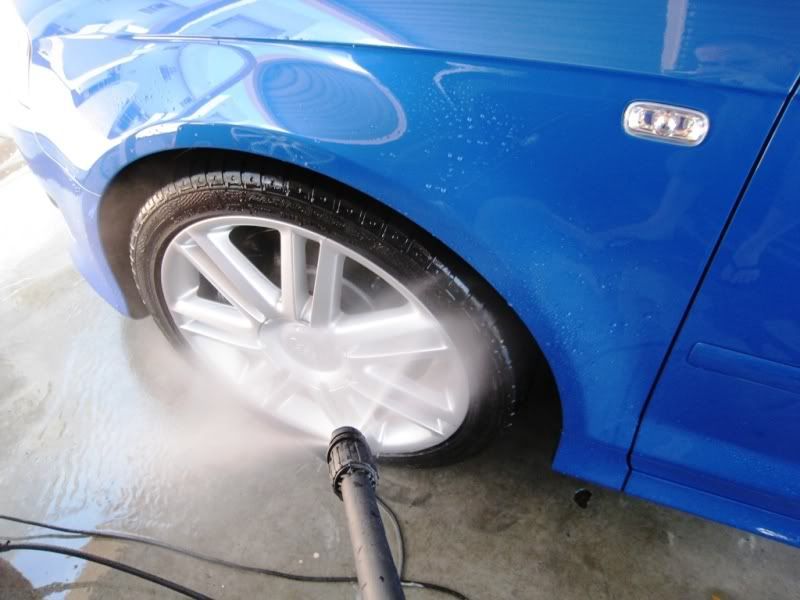 And the finished result
Polishing Prep work
The car was foamed with a combo of Sonax Gloss Shampoo and some Shield Blade APC we decided to give a try before being rinsed and then washed again. Clay duty was performed by Meguiars Fine clay and not surprisingly came up pretty empty handed in terms of bonded contaminants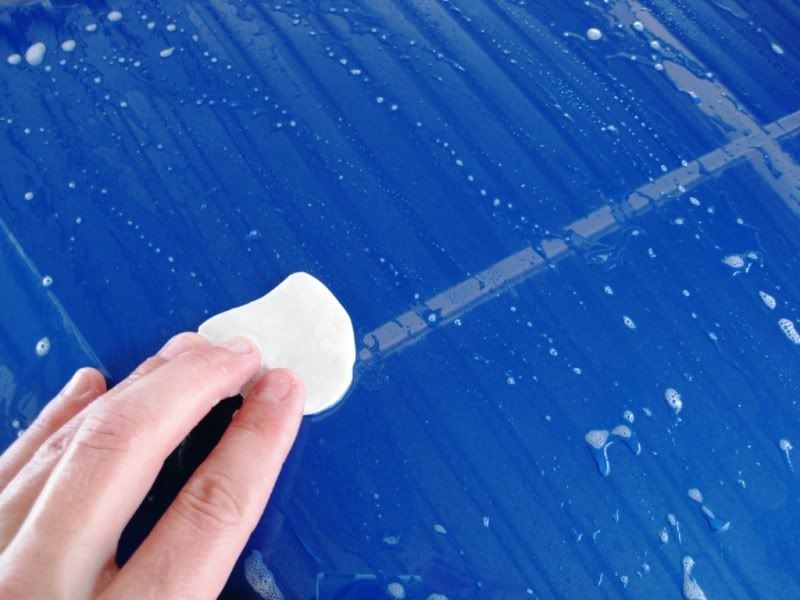 Last up in terms of the initial prep work was a final rinse and dry followed by religious taping to protect delicate area's and avoid unwanted contact and/or staining from the polishing steps.
3M Blue tape was the obvious choice and complimented the sprint blue paintwork perfectly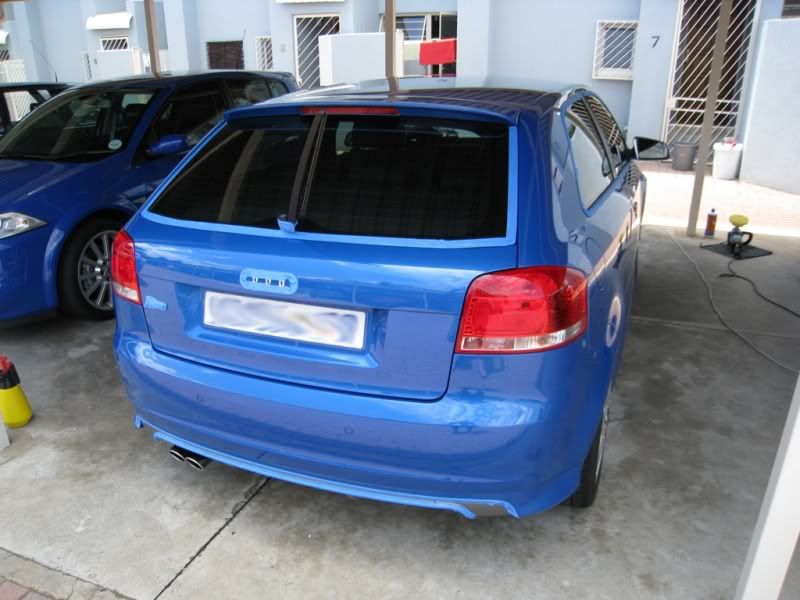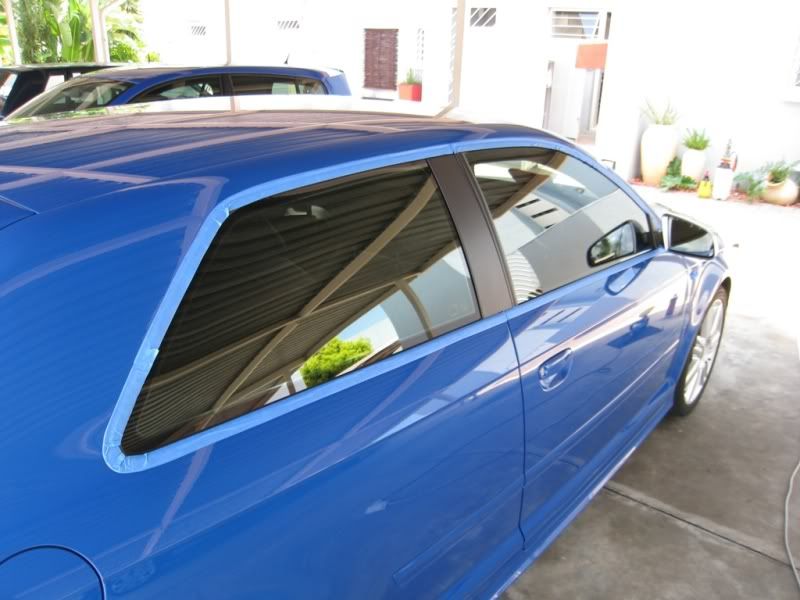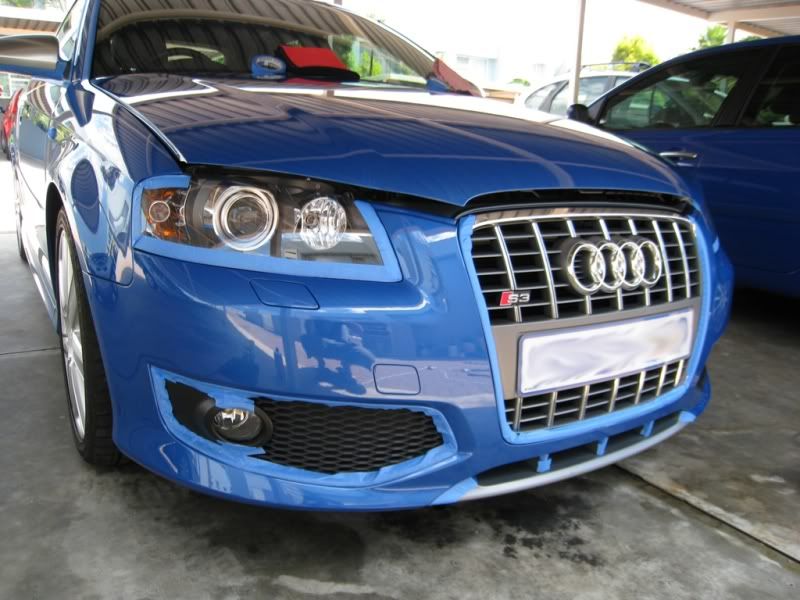 Paint correction
With all that out the way we proceeded to have our asses handed to us by the Audi clear coat

Our 1st line of attack was a mild combo of Menzerna 106FA on a yellow 3M polishing pad. Considering the mild swirling we figured this would be all that was needed....
106FA, 3M yellow pad and Makita rotary reporting for duty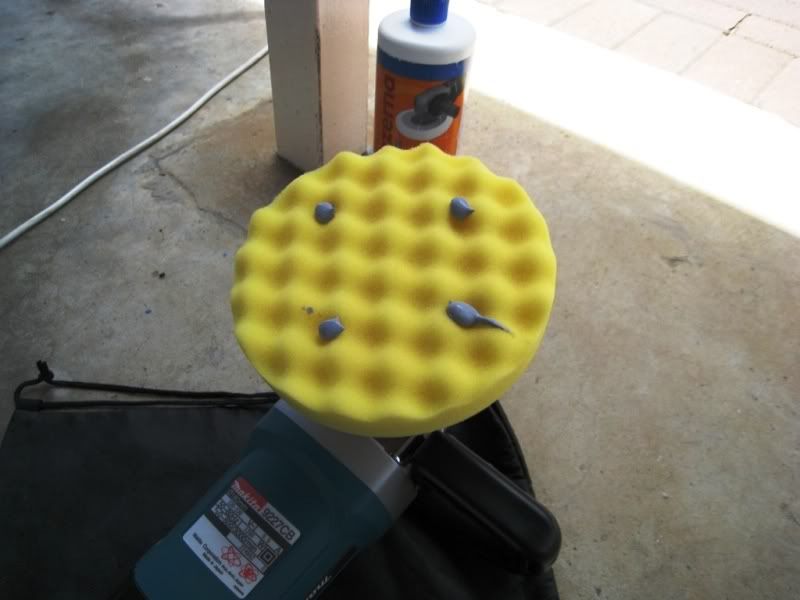 After our initial passes with the FA we pulled the car back out into the sun to admire our correction only to be greeted by 90% of the original swirls that didn't appear to be vastly improved over the original state. No problem we figured, we will step up to SIP remaining with the yellow pad and that should be sufficient....well, lets just say that even SIP worked at up to 1600rpm on the rotary didn't have any acceptable effect on the swirls.
At this point we figured we would need to go back to the harder LC CCS pads and decided to stick with SIP and avoid any heavy compounds that would need further refining afterwards. First up was the LC white pad with SIP...no difference to the 3M yellow/SIP combo and then LC green with SIP which seemed to provide good correction after 3 to 5 hits on the rotary

Whilst Grant got stuck in hitting the panels 2 to 3 times with SIP on the Green and White LC pads I decided to break out the green 3M compounding pad and 3M Fact Cut Plus compound to see what effect they would have and how much post compounding correction would be needed to restore the gloss. I had read about guys using a drop or 2 of FA with the FCP to reduce the dusting and improve the working time so I gave this a bash. The FCP combined with the green pad did really well and managed to knock back around 60-70% of the swirls with a single pass without leaving any immediately visible holograms. After the green/FCP combo I refined the surface with SIP on 3M yellow again and the results appeared to be acceptable, albeit still taking sometimes 2 hits to reach acceptable correction of the swirls. Finally towards the end of the polishing we wound up using 3M FCP on a purple foamed will pad refined with SIP and/or FA on the yellow 3M pads to restore the gloss and eliminate any potential (but unseen) hologramming. Overall this paint truly whipped our butts but it was an invaluable learning experience for us at the end of the day

Anyways enough

lets get back onto some post correction pics
The original swirls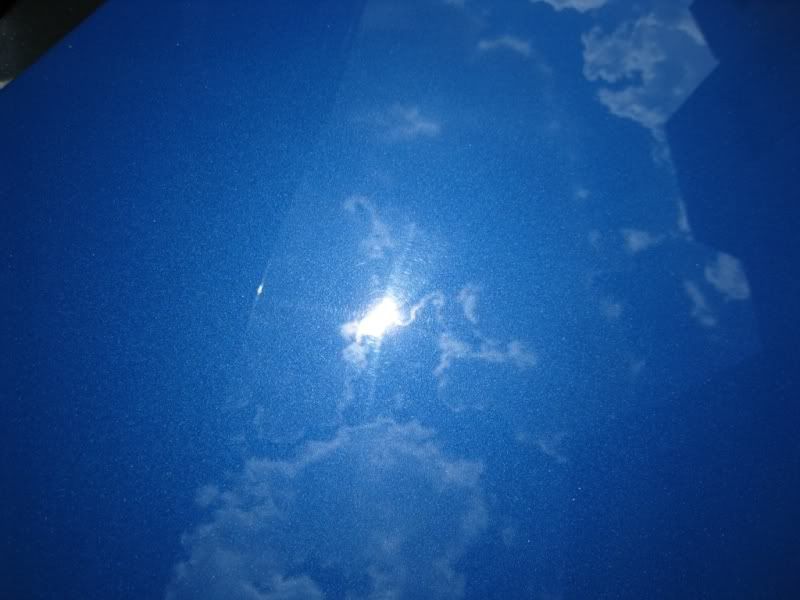 Closeup of the remaining defects after 3 to 4 passes of SIP on various pad combo's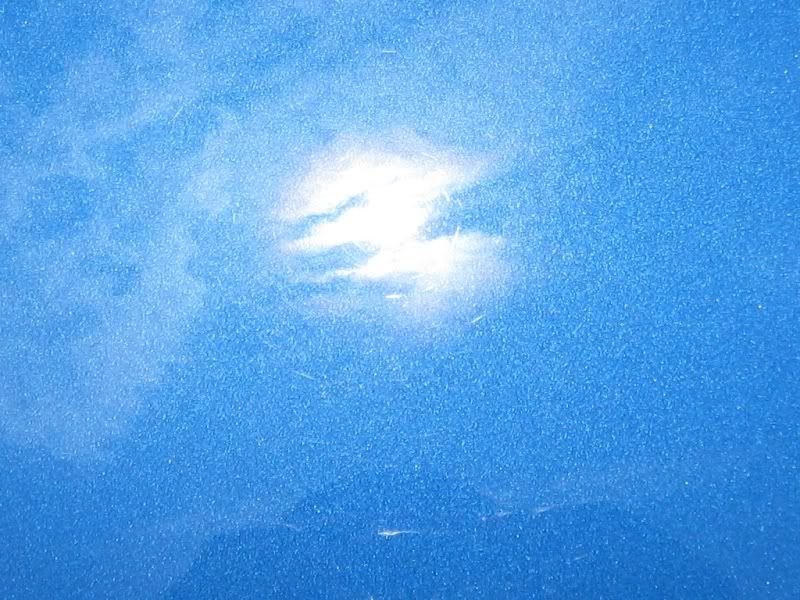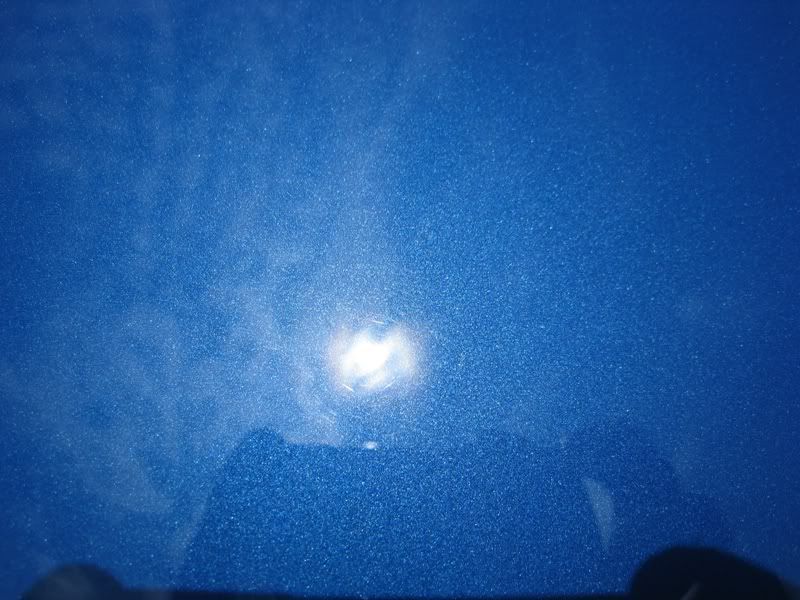 At this point and considering this was a regular detail, I guess many would have been happy with the outcome but we decided to forge ahead and make use of this opportunity to see what works on these super hard paints. Over and above the learning opportunity we didn't want the customer thinking we spent the better part of 2 days doing practially nothing to his paint work and wanted to see exactly how well we could elminiate the admittedly very mild remaining defects

Again the original swirling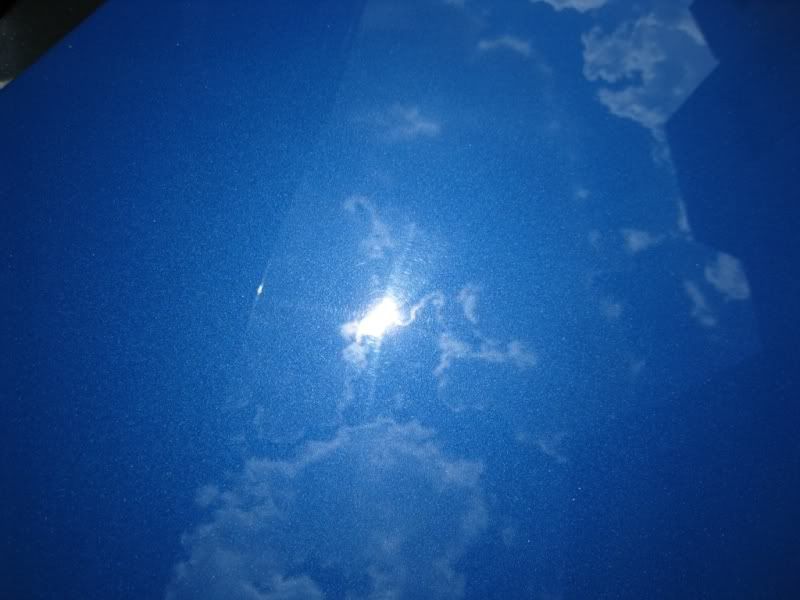 Same area after multiple passes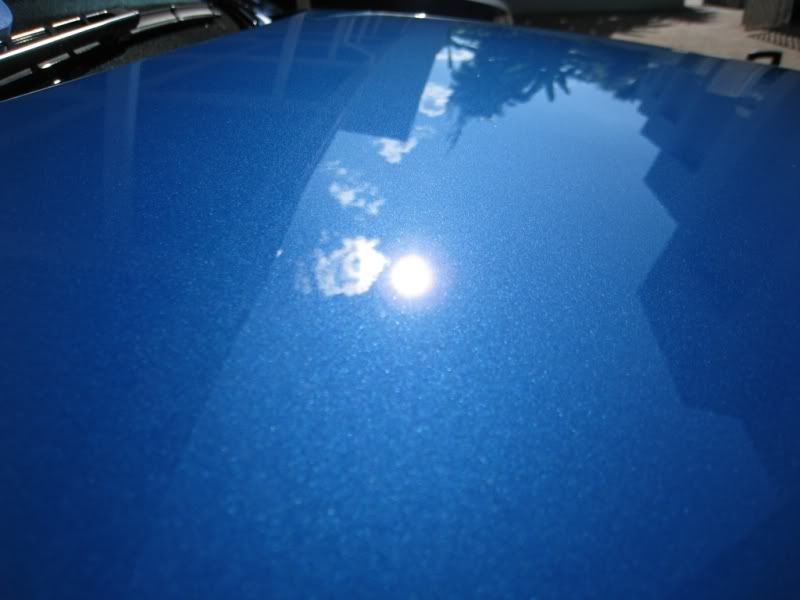 One more full sun close-up
And finished front end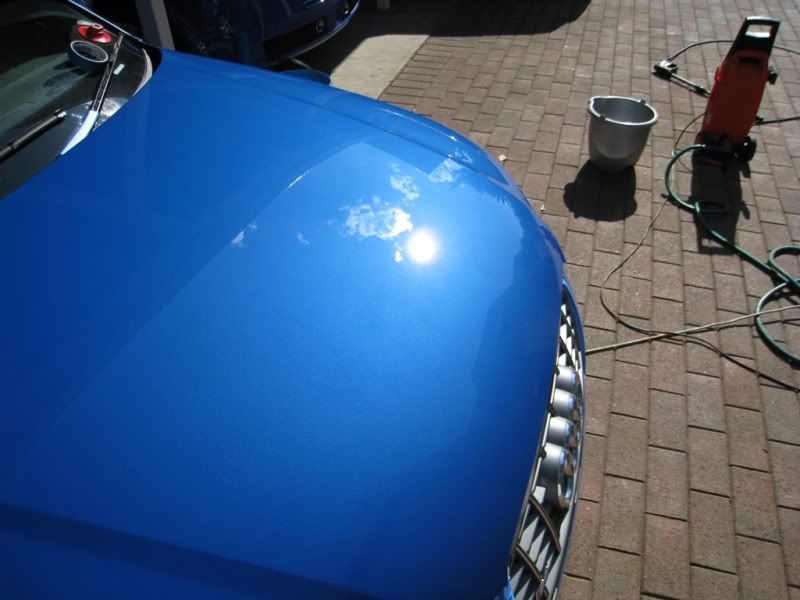 Some post correction pics prior to the final wash down in preperation for the LSP and final details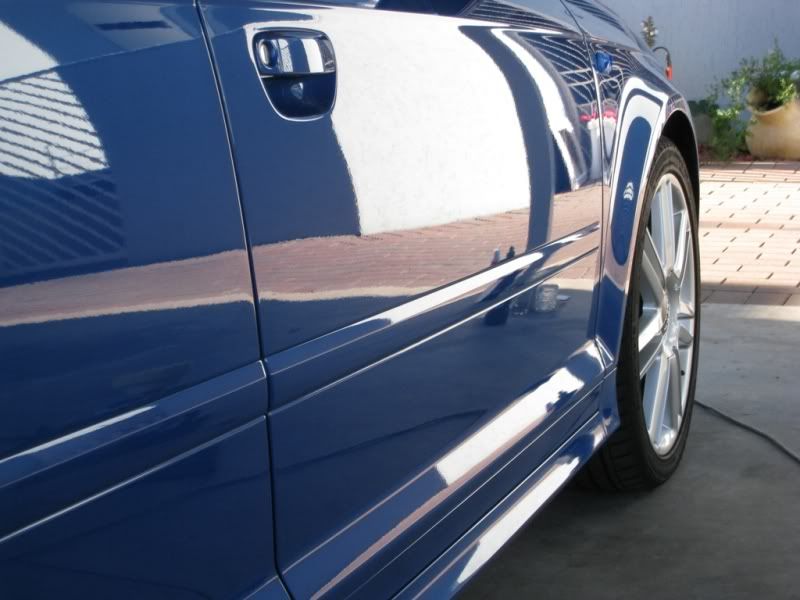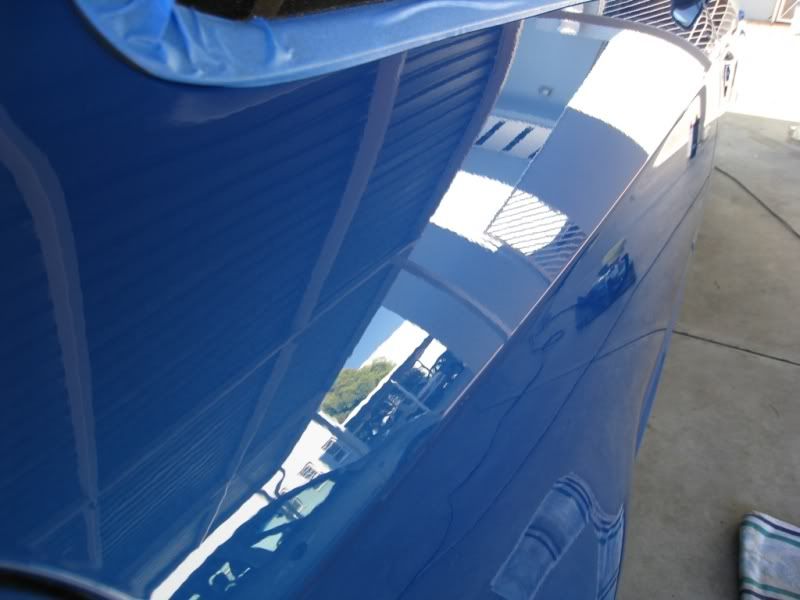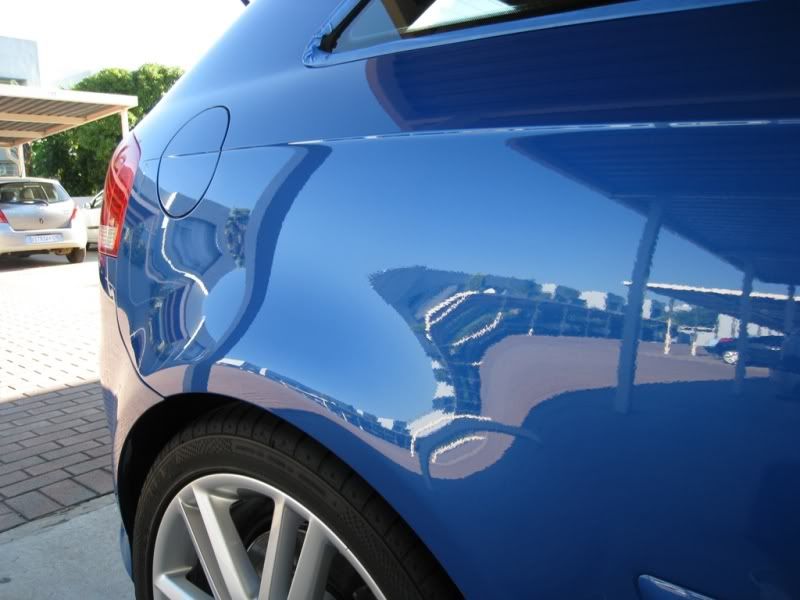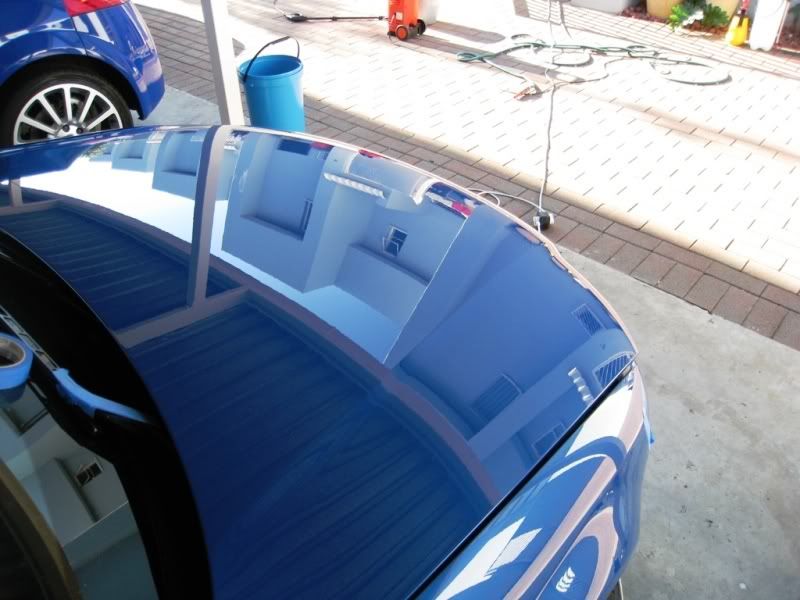 The wandering rotary detour
With day 1 drawing to a close we seized the opportunity to test some compounds on a neglected fellow residents Chrysler Neon. This ladys car is in a terrible condition and has previously been used as a guinea pig of sorts for some products. A full detail is in order at some point in the near future

Trashed paintwork under the flourescents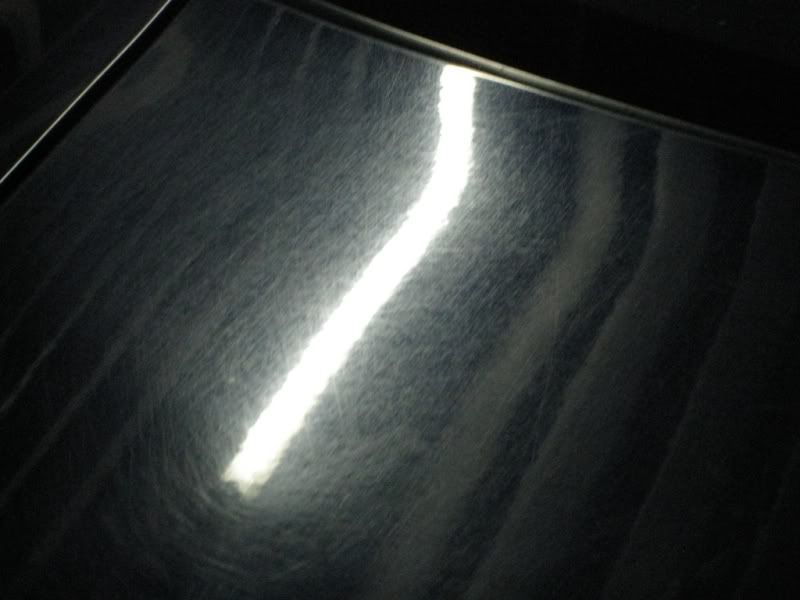 And some afters after 1 hit of 3M's FCP on their green compounding pad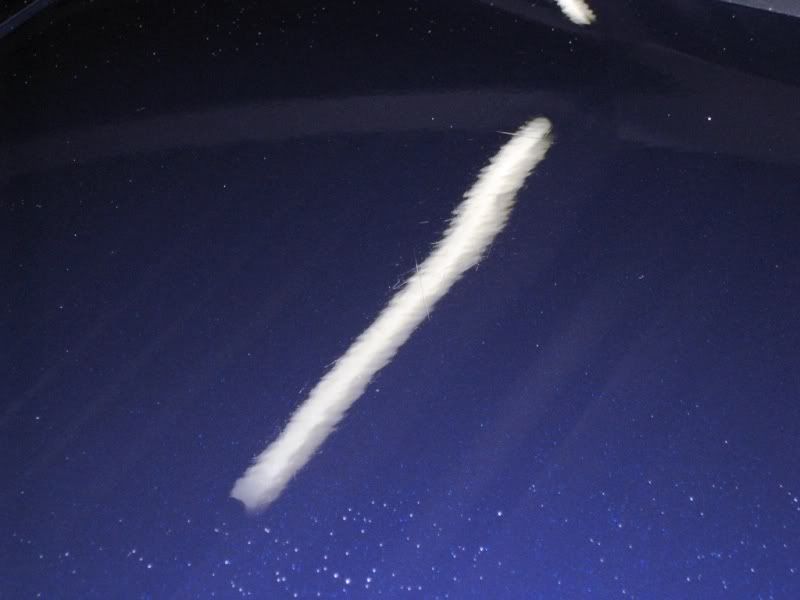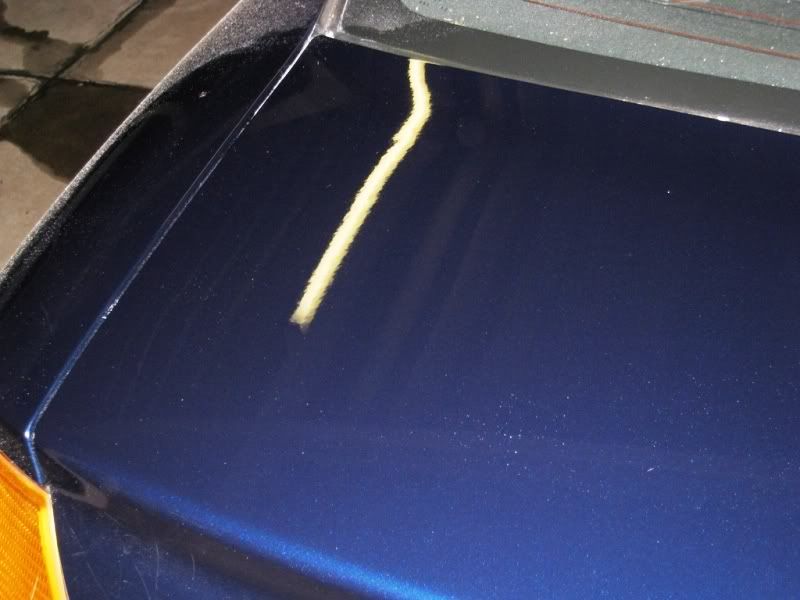 Back on track on route to completion
Day 2 started with some final polishing and finishing before rinsing and applying the LSP and attending to all the little bits. LSP of choice was CG's Extreme Top Coat with 3X Carnauba as the client has his own on the way and will be maintaining the shine with this along with some Pete's 53 he also has on order

With the LSP applied we couldn't resist pulling the car back out into the sun to snap some pics while we did all the other odds and ends (window trim, tires, etc)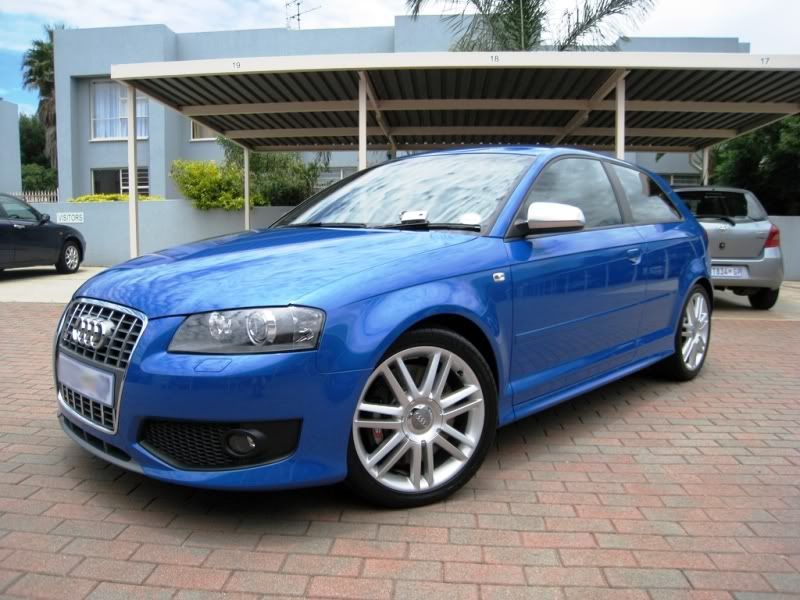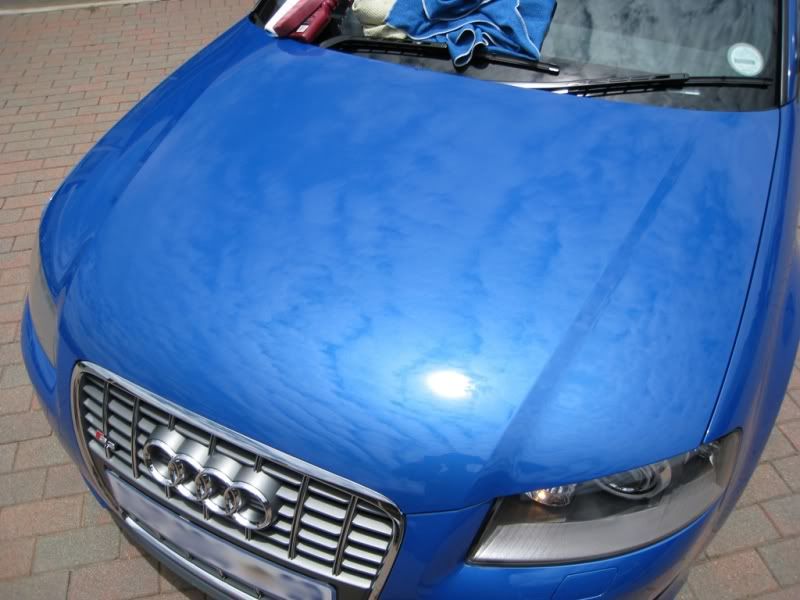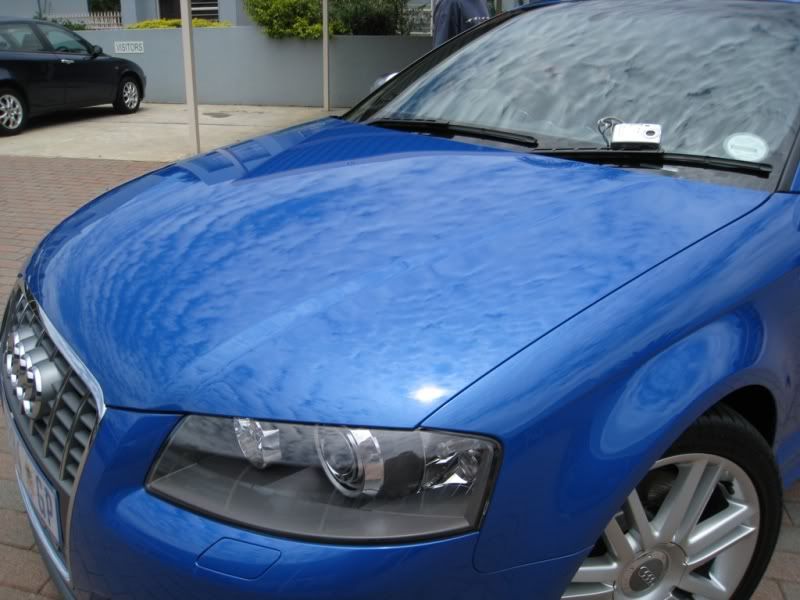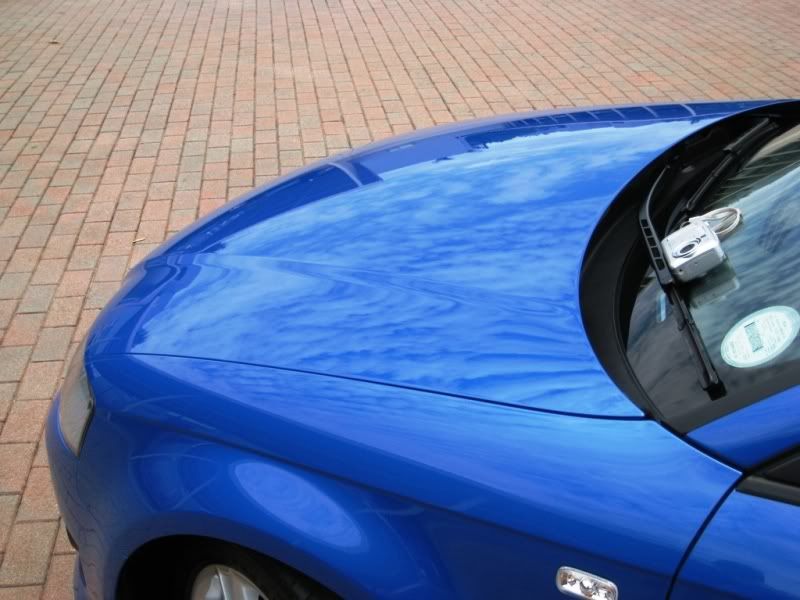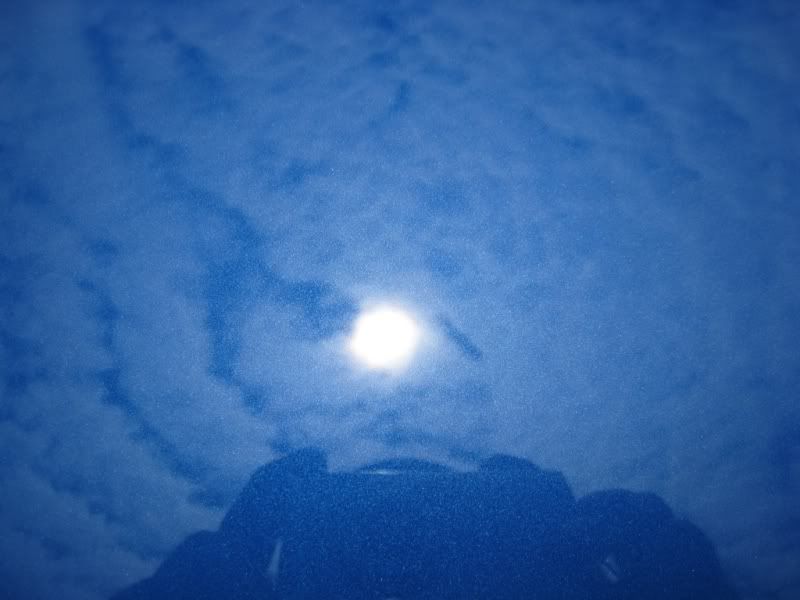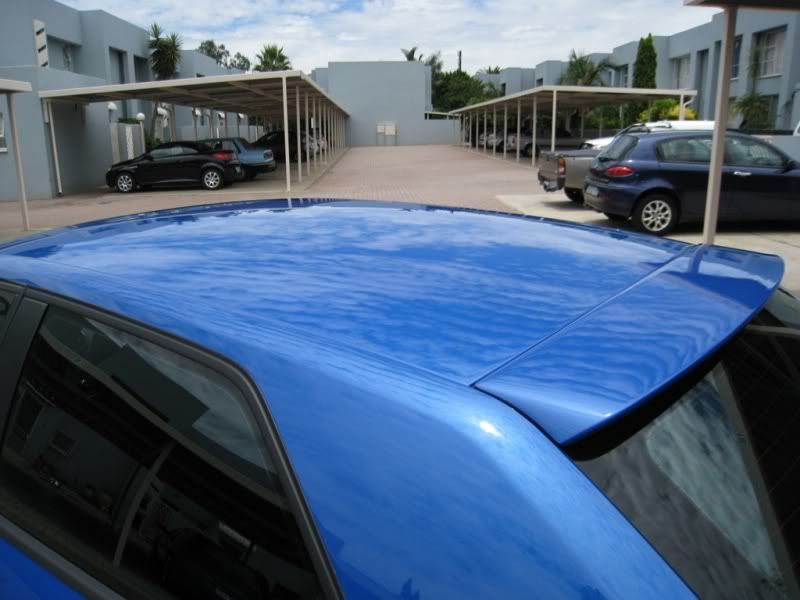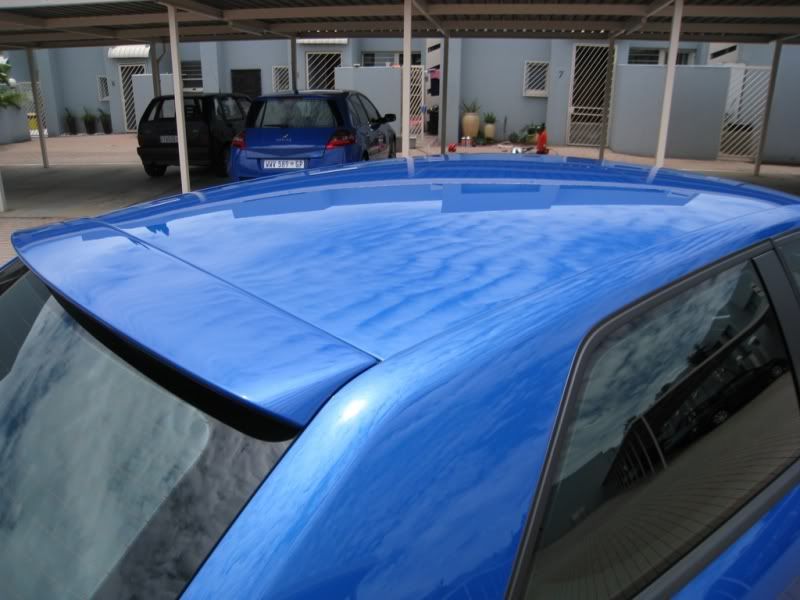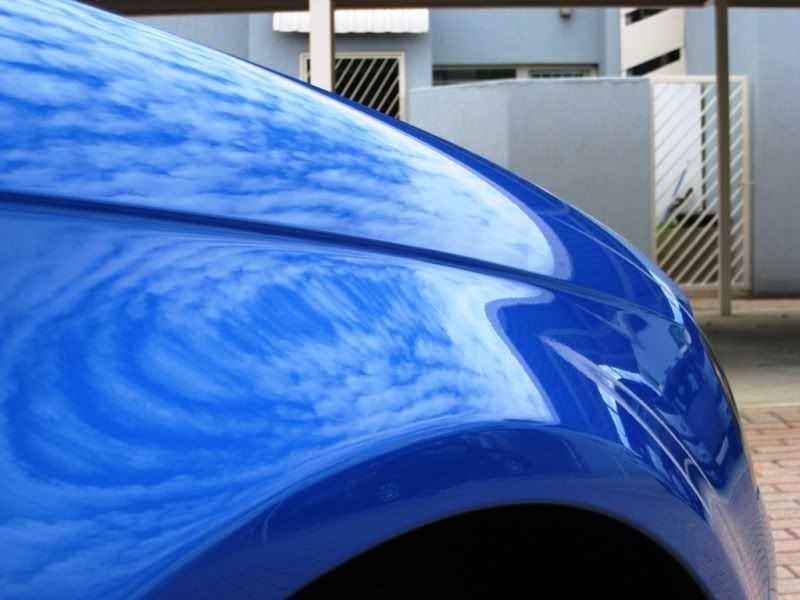 Some reflections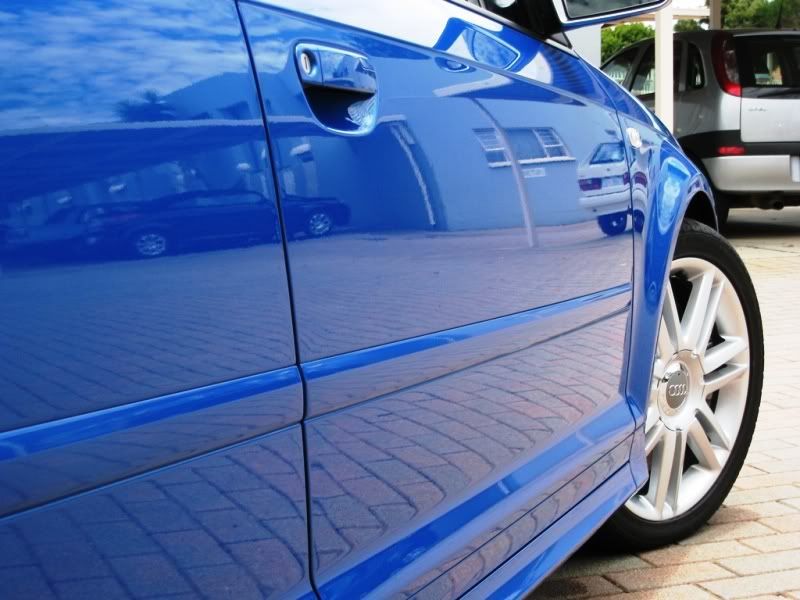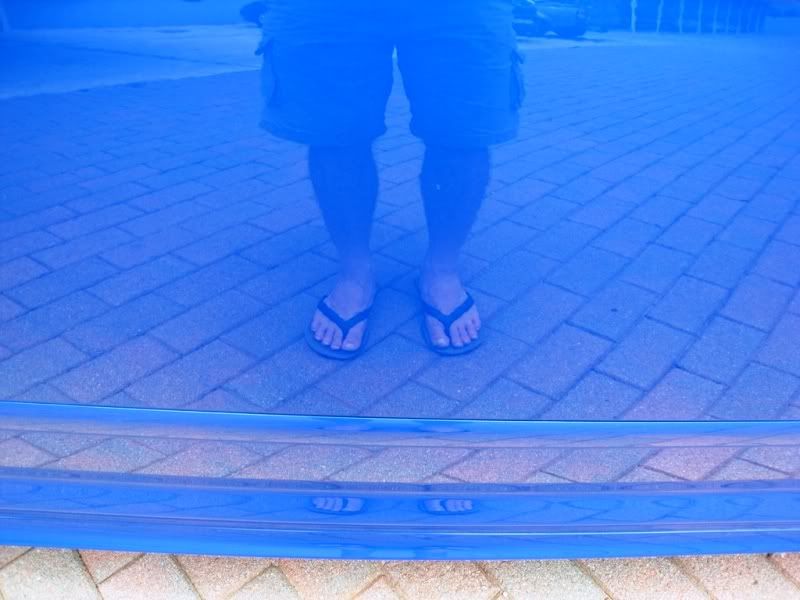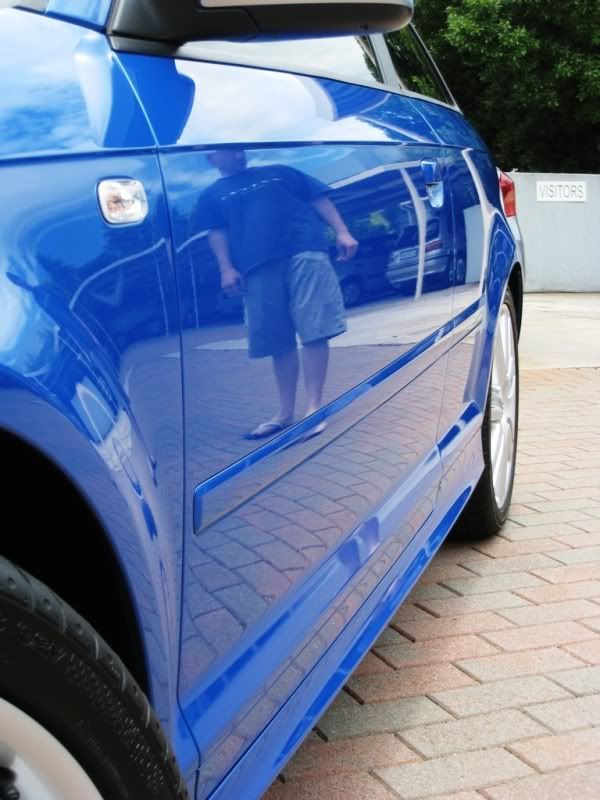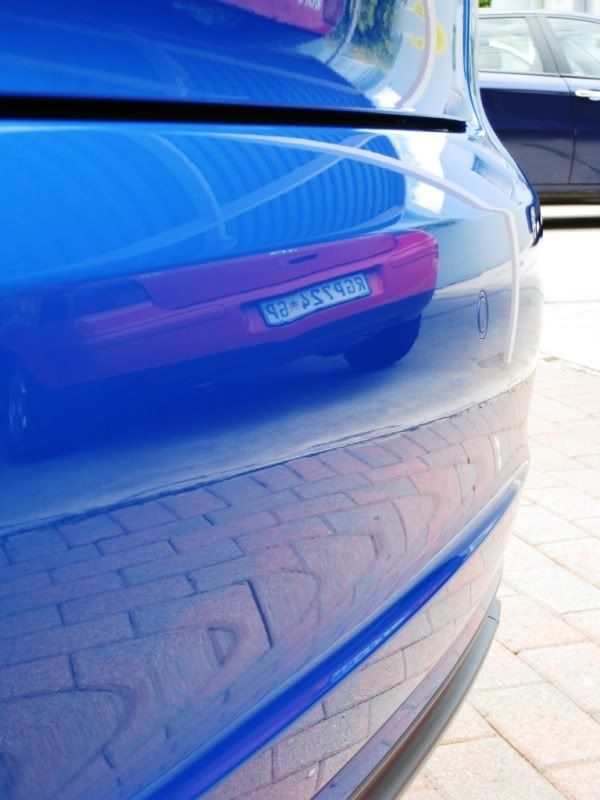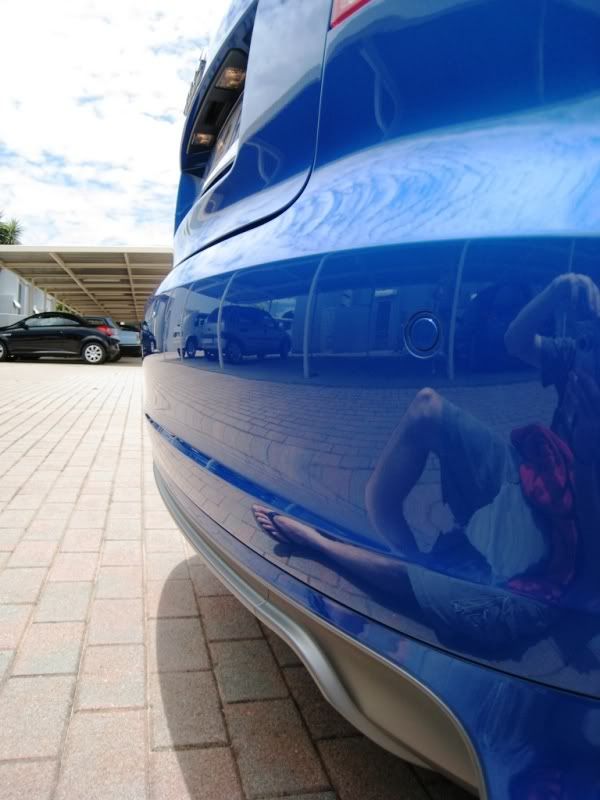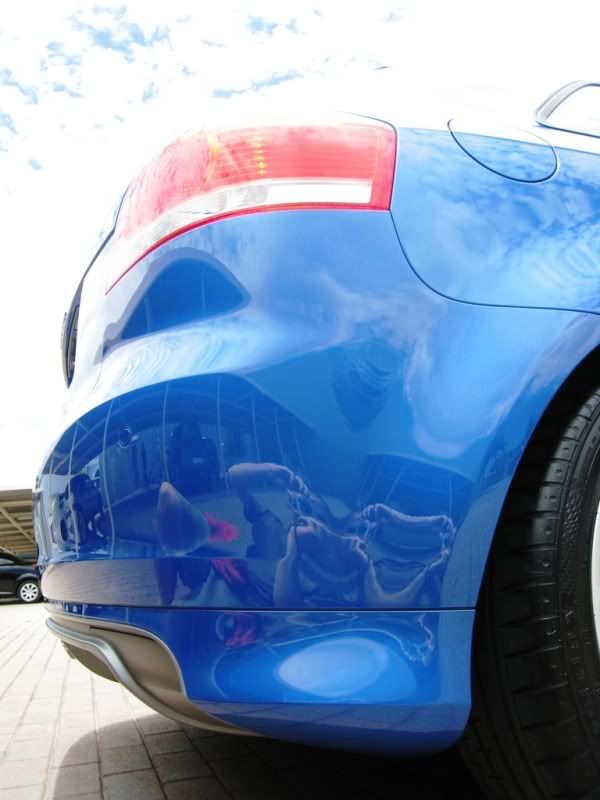 After our initial foray into the sun we pulled the car back into the shade to vacuum the mats (this was all the client wanted done to the interior) which gave us the opportunity to take some more pics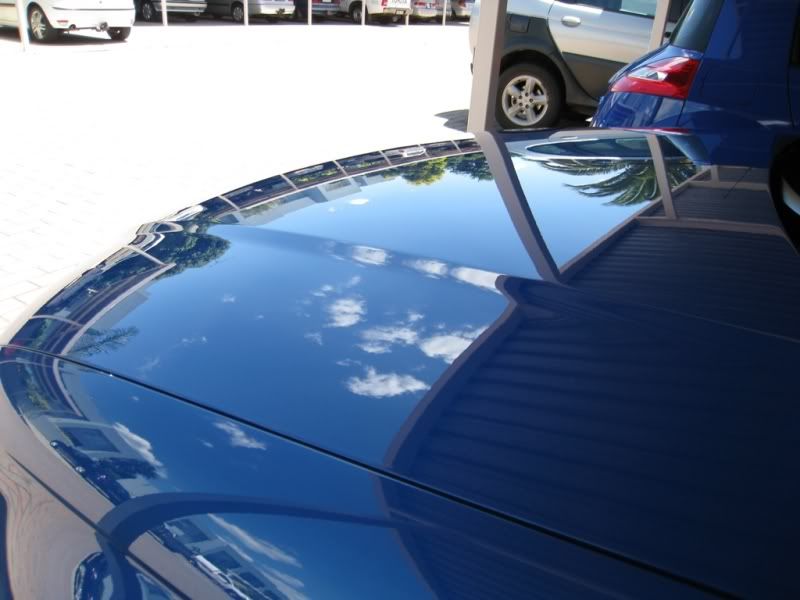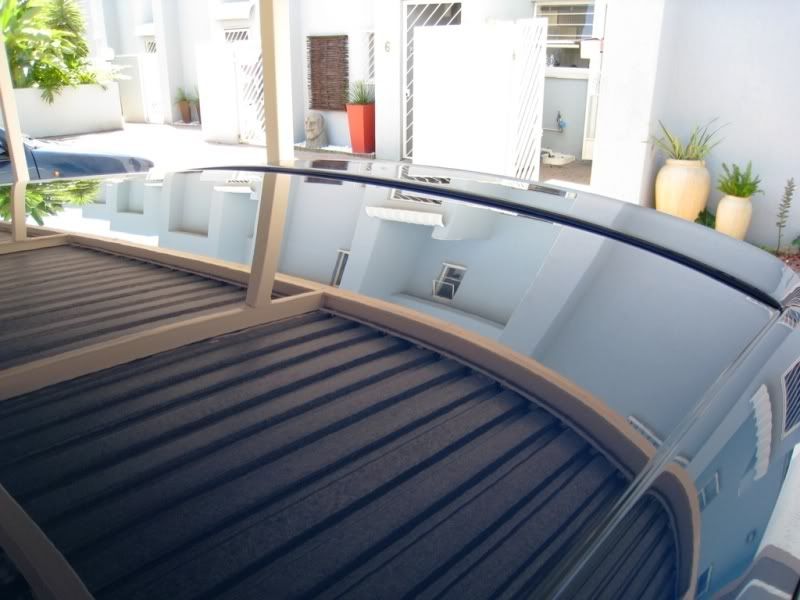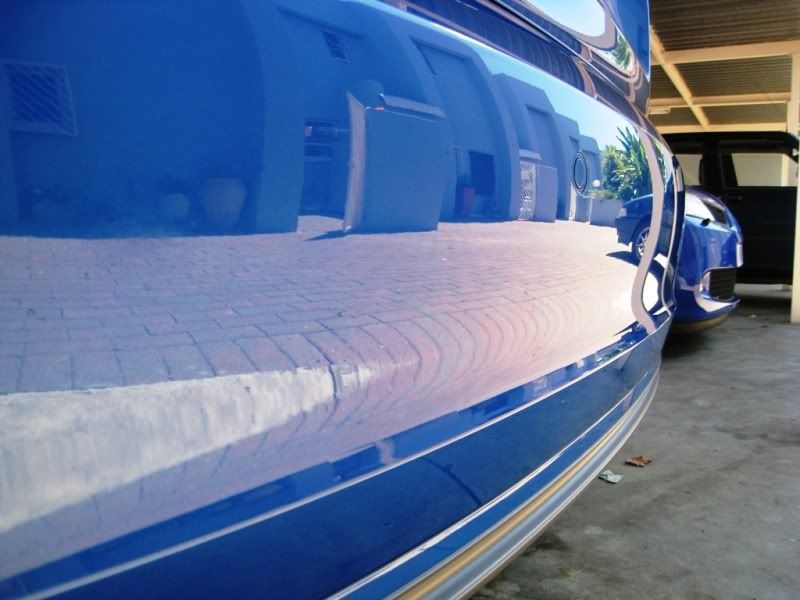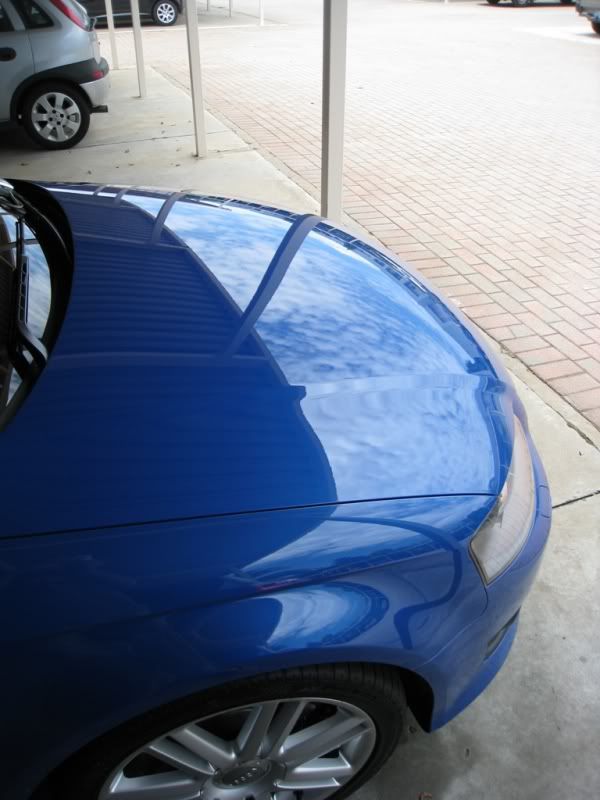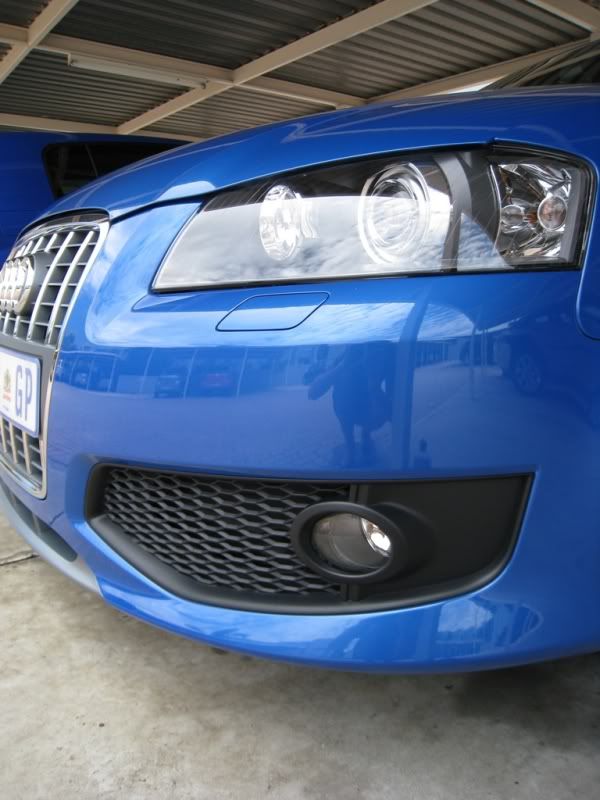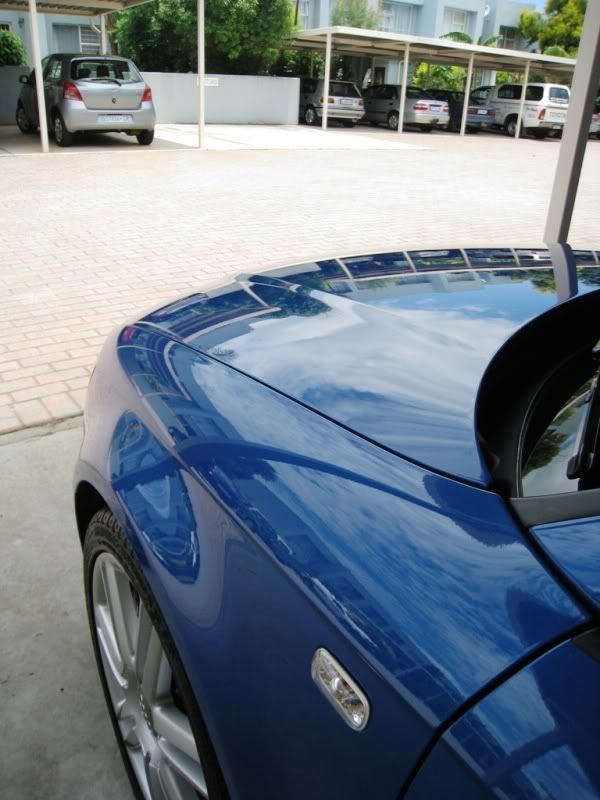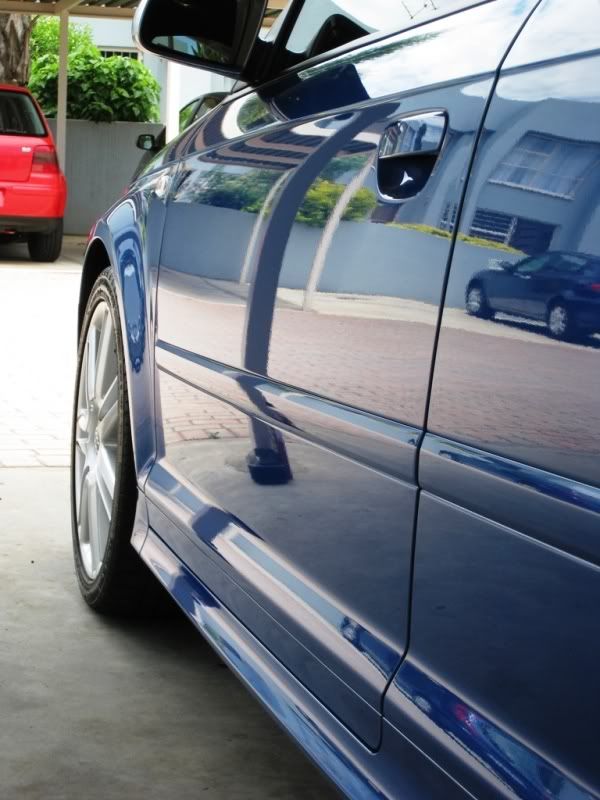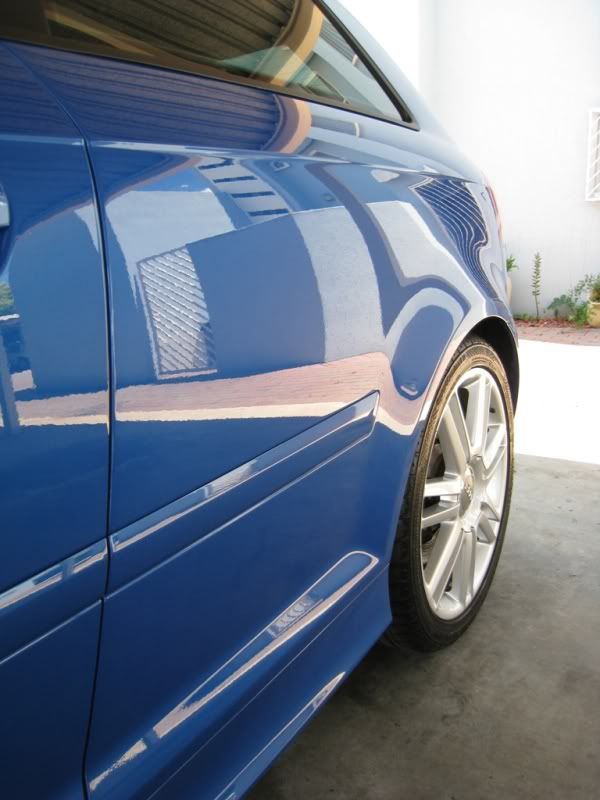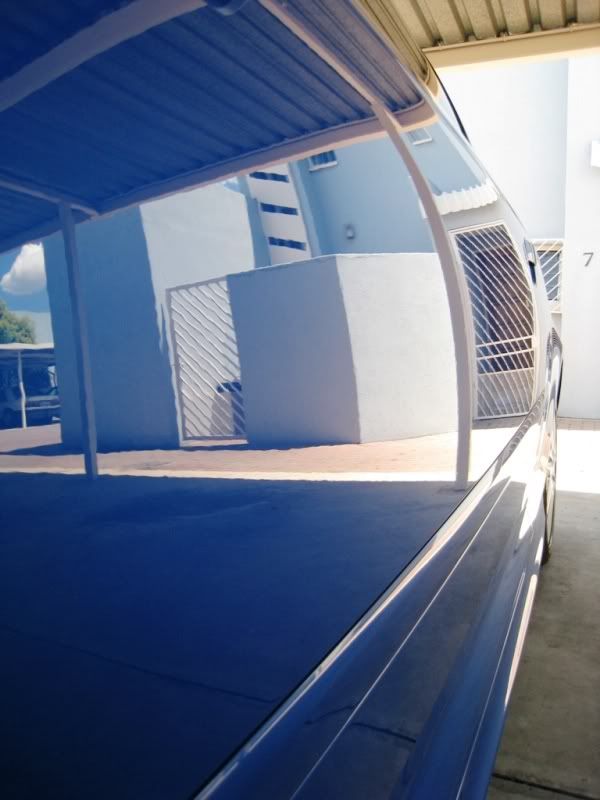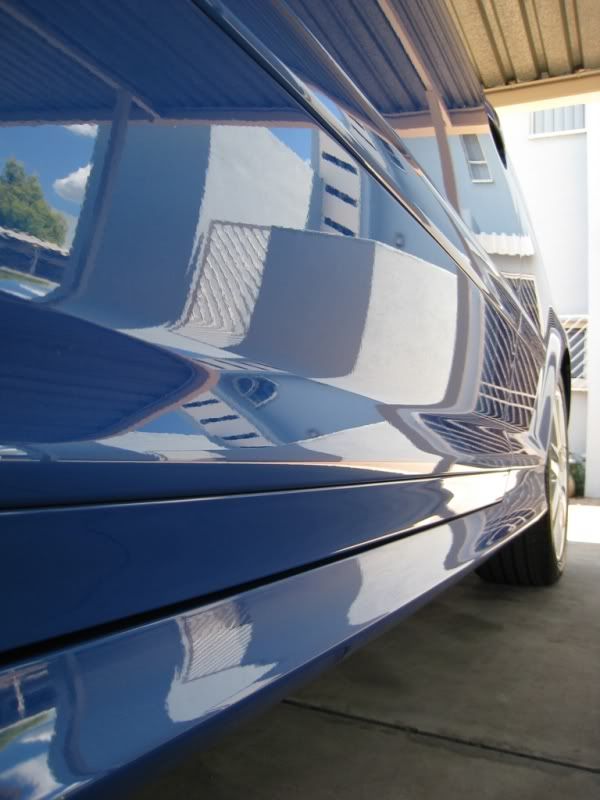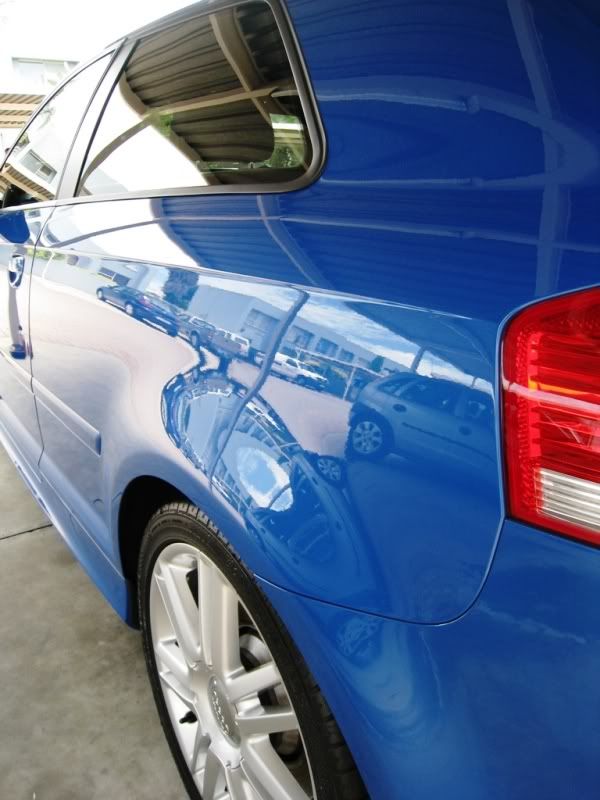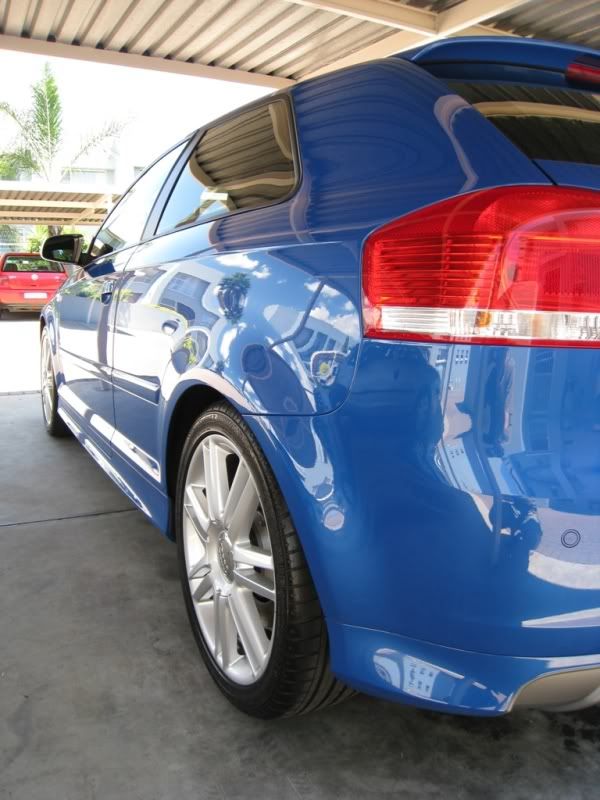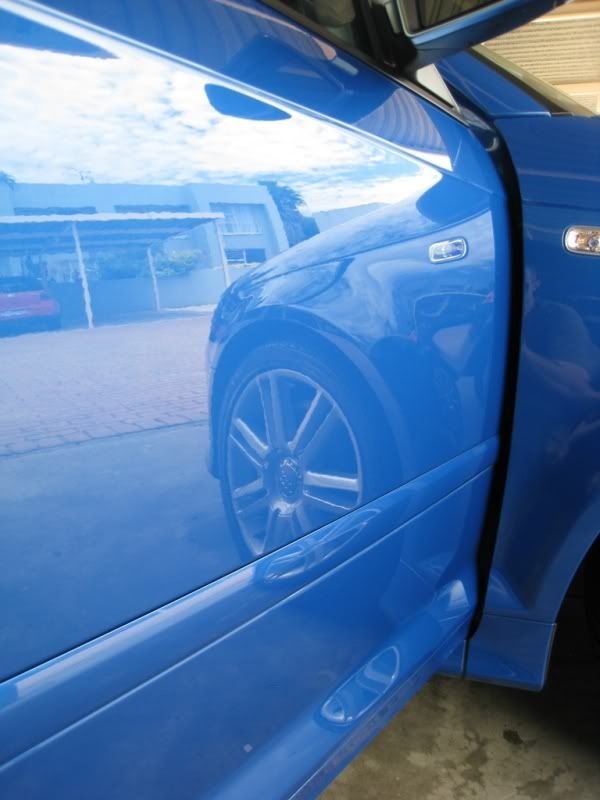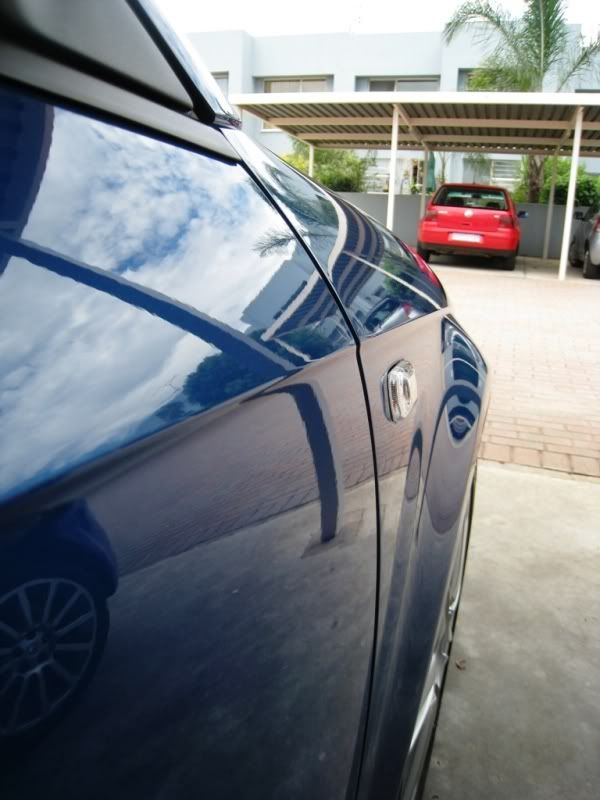 With the car complete and before hitting the cold shower (it was around 13H00 and about 32°C outside) I decided to make final use of the clients camera and snapped even more images out in the sun (sorry I couldn't help myself being a bit of a camera + detailing + VAG nut). Enjoy !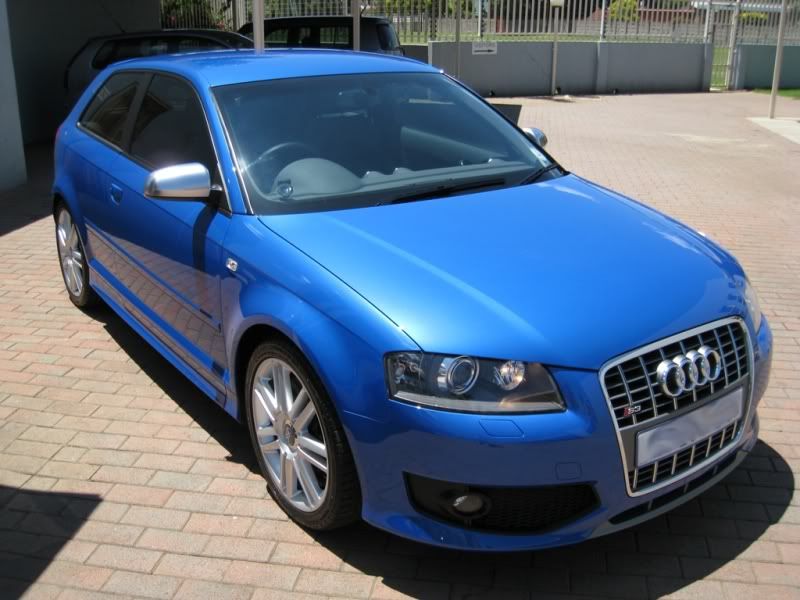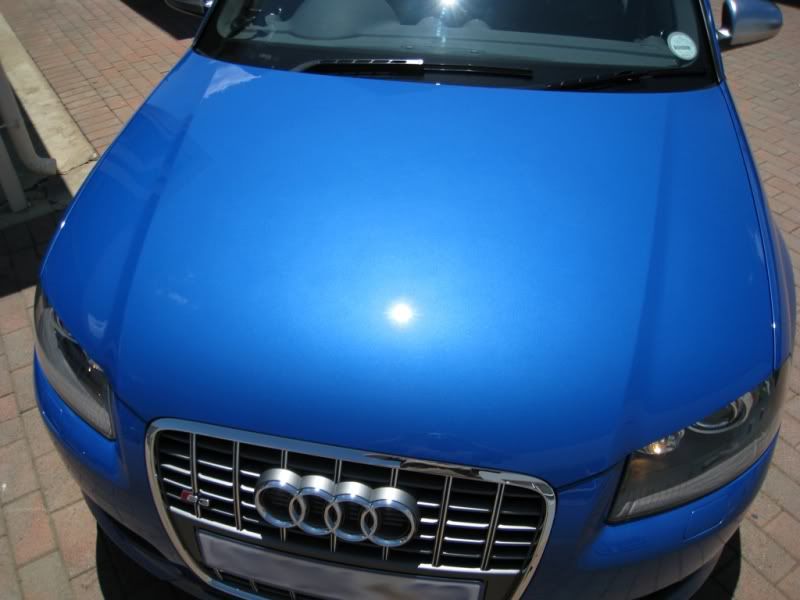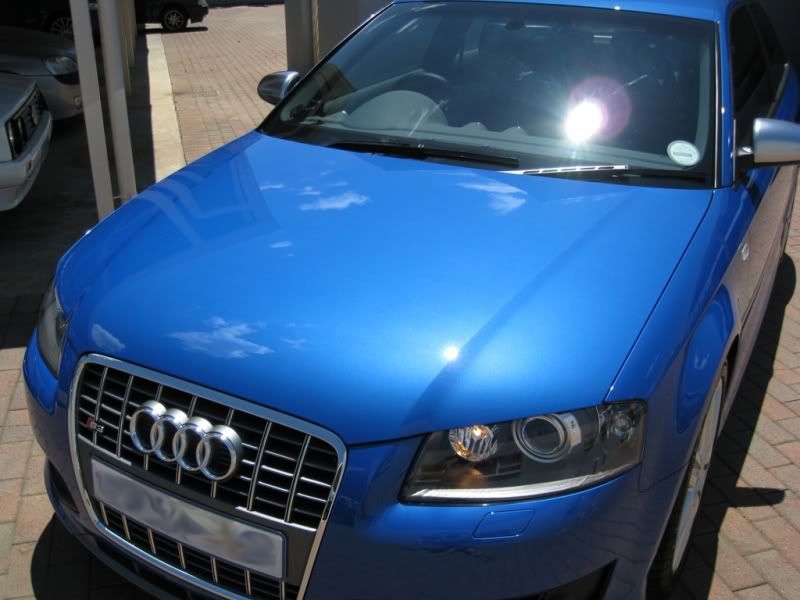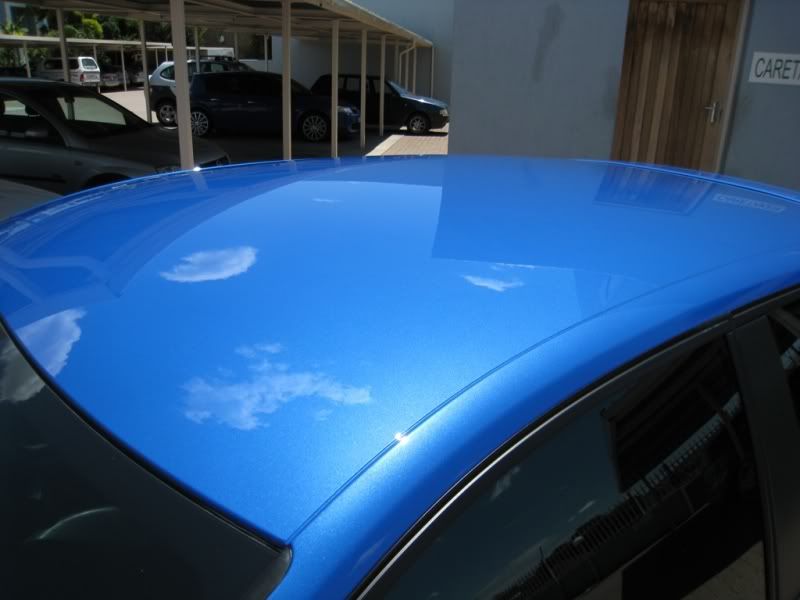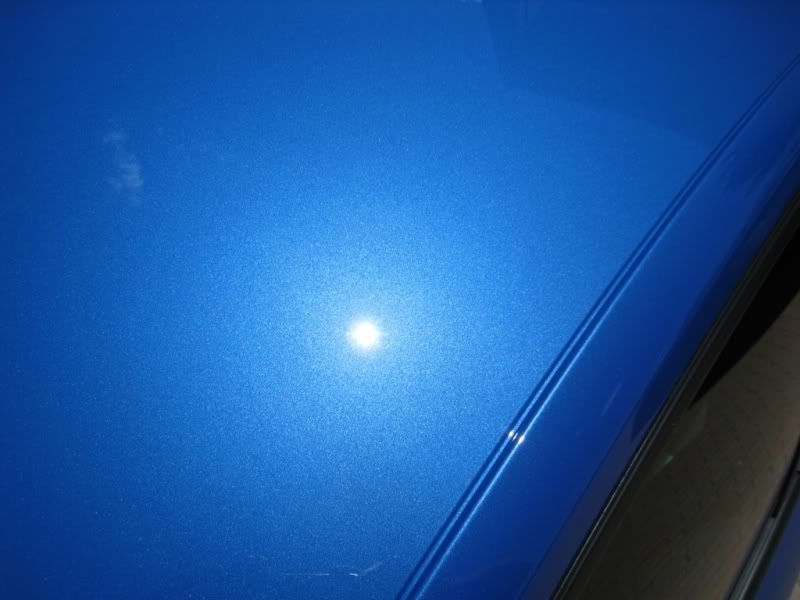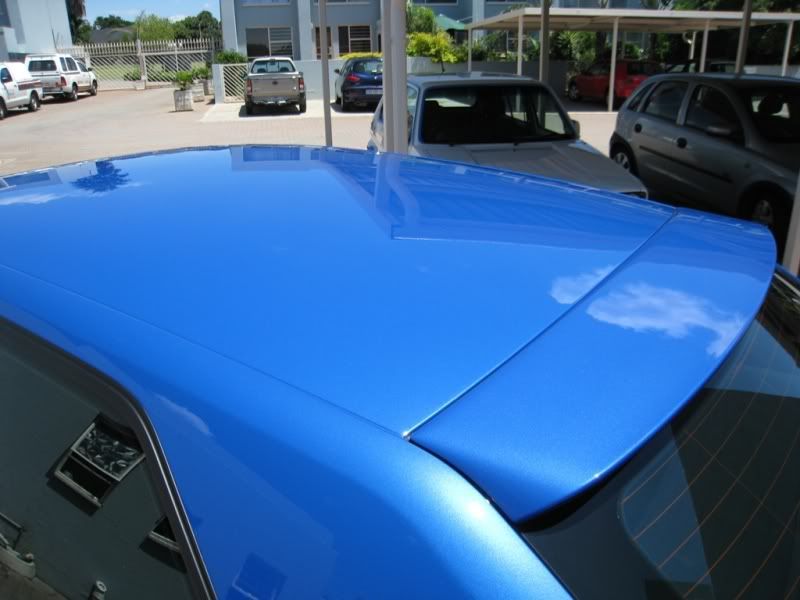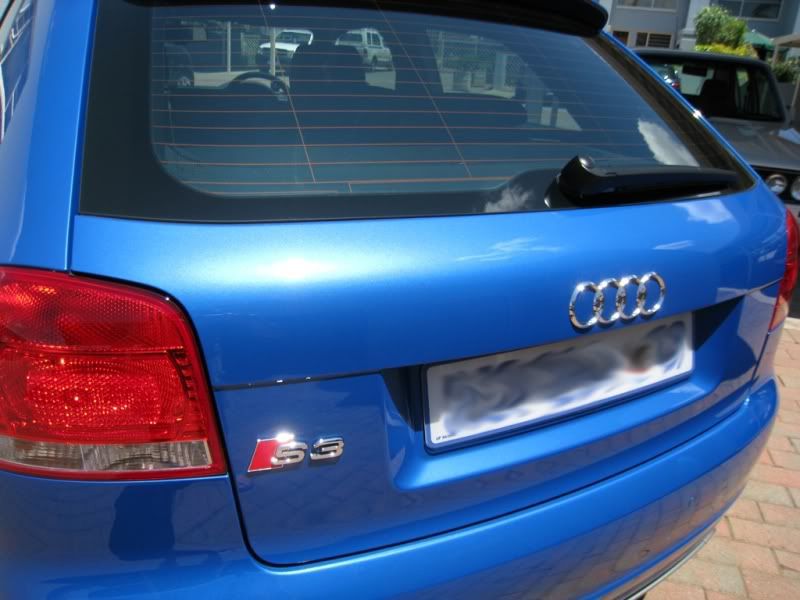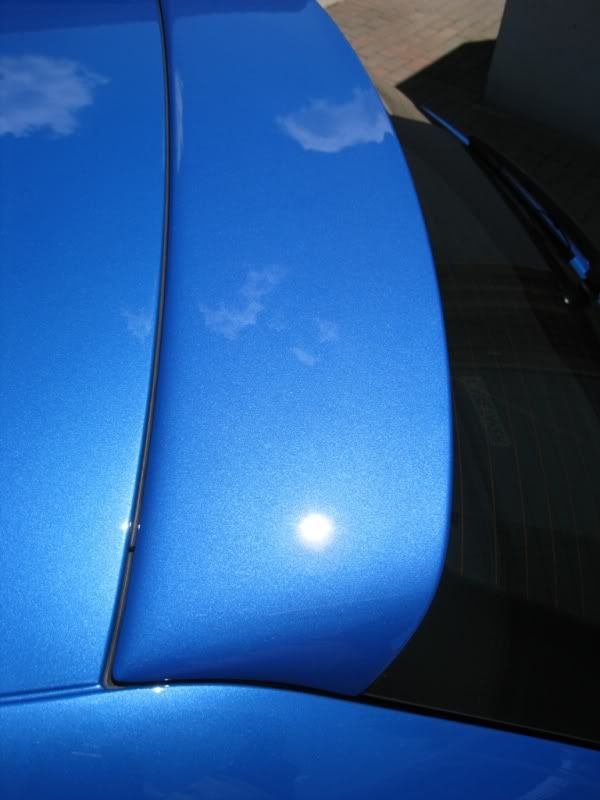 Lovely wet reflection from the floor
Tailpipes courtecy of Meg's NXT Metal Polish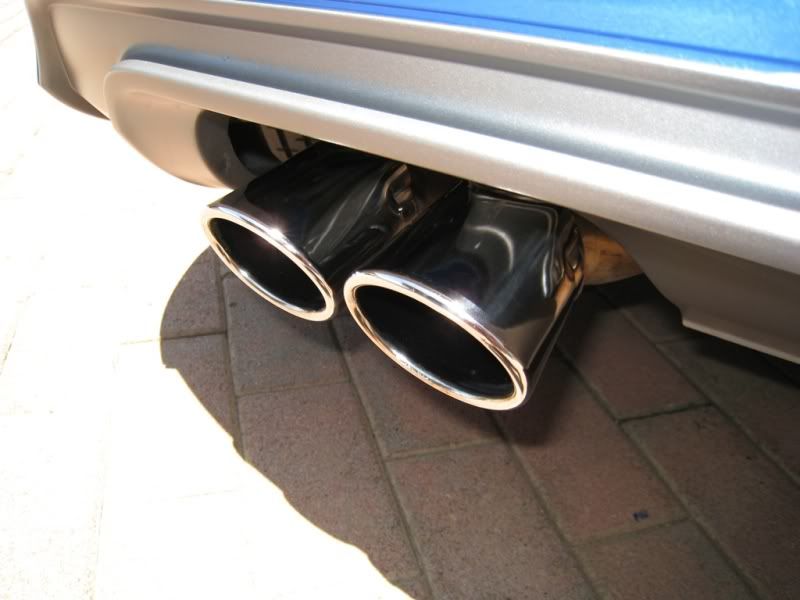 Some final close-up flake shots and artsy fartsy ones using the macro function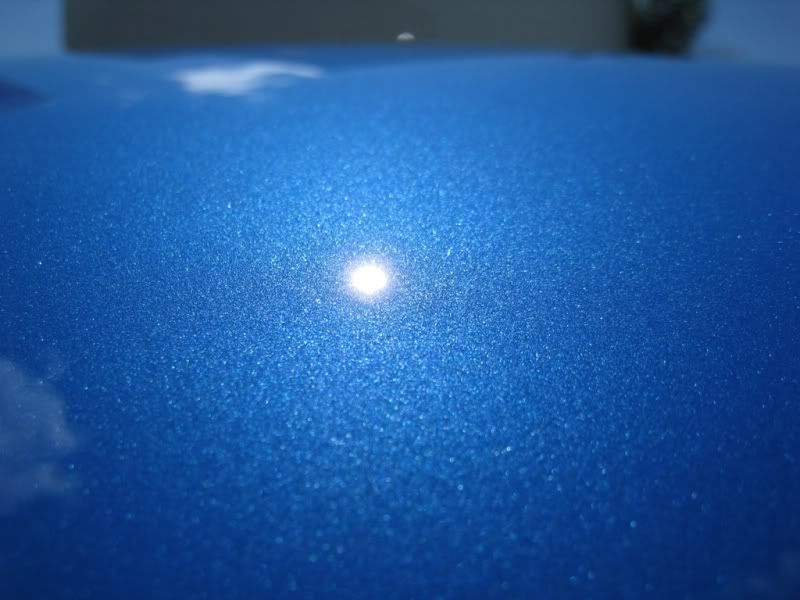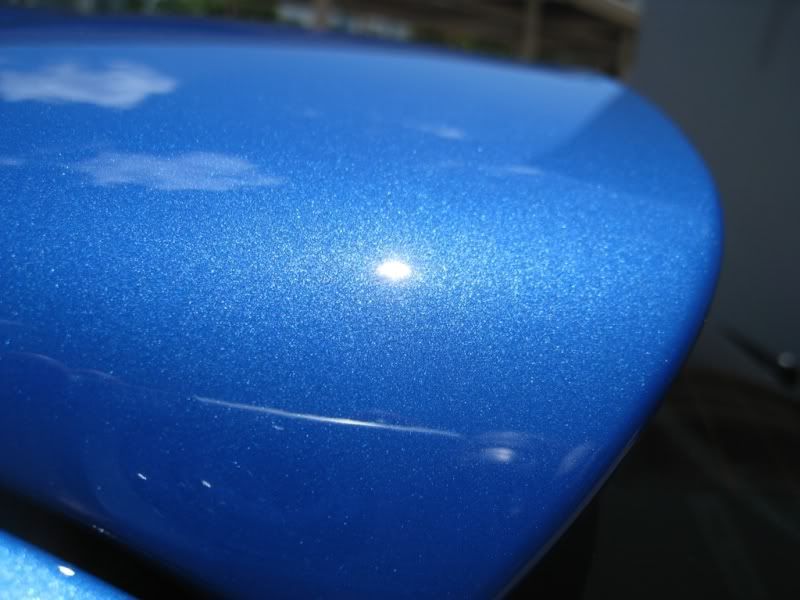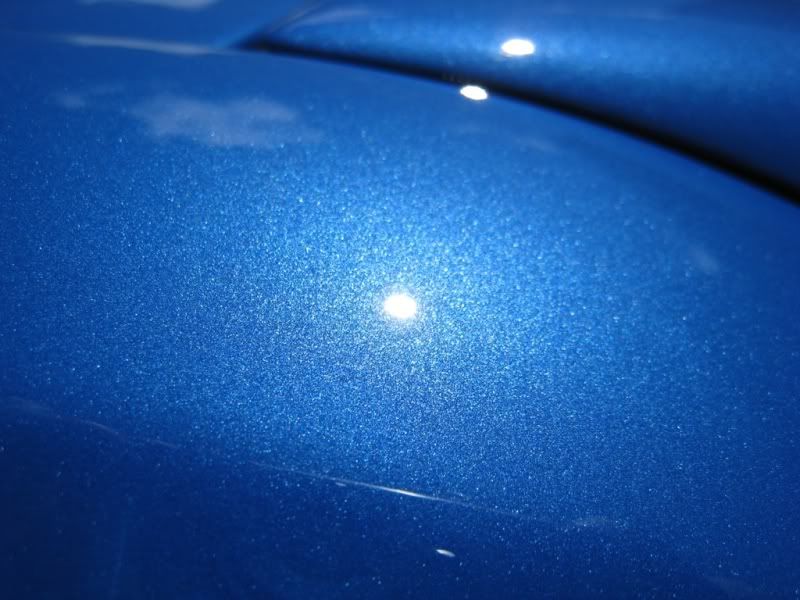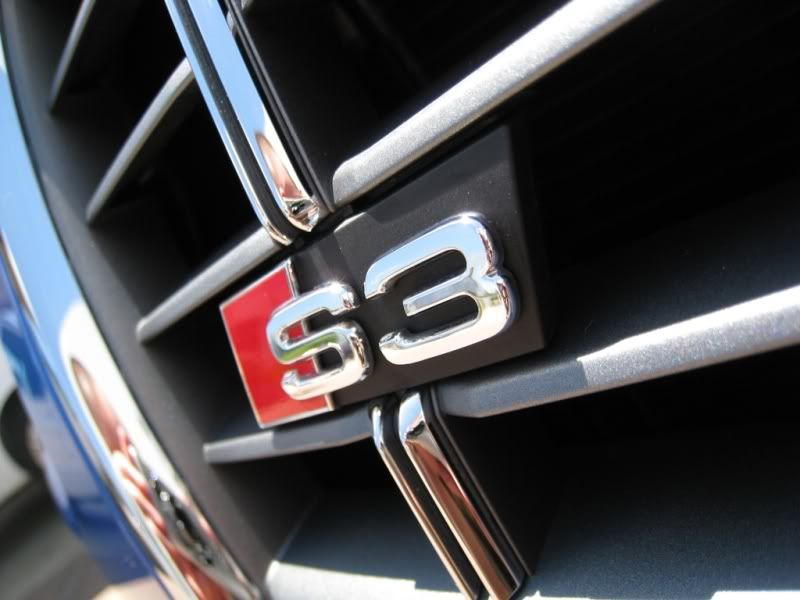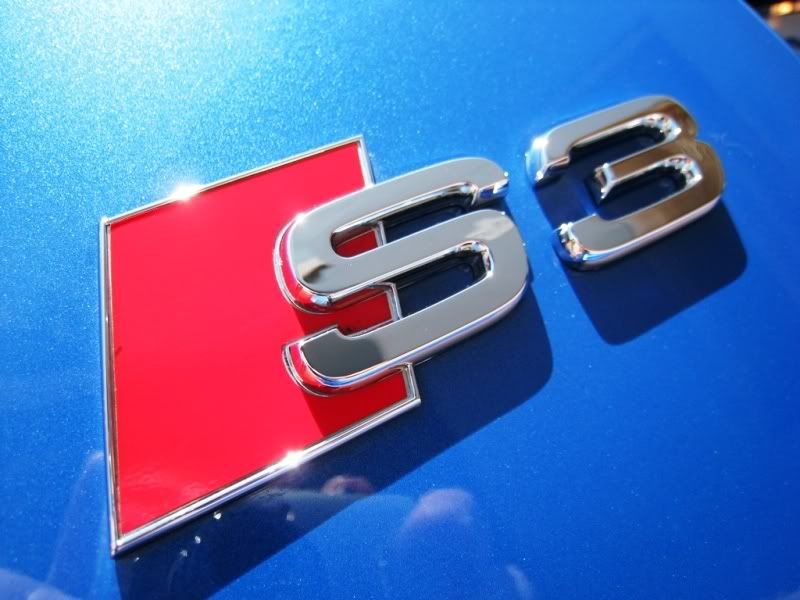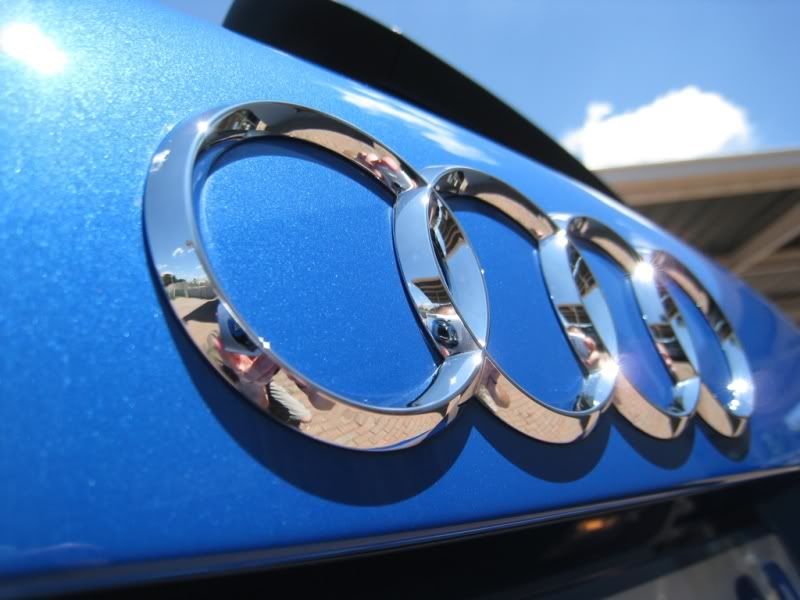 We decied to put the video function of the camera to use and did a quick walk around as well....Nearly finished I promise, click the link and choose the High Quality option (doesn't work for embedd for some reason)

http://www.youtube.com/watch?v=c4SJB2MxqJ4
Overall a challenging detail and terrific learning experience that was topped by having a super enthusiastic client that truly appreciated the work we did. Thanks for looking

---
David : 083 642 2118


www.mobileimage.co.za





04-01-2009, 03:49 PM
TheWusman
Fledgeling Detailer


Posts: 77
Joined: Dec 2008
Reputation: 0
RE: Mobile-Image : Sprint Blue Challenge (90+ Pics)
Dude - I am still speechless.

The S3 may be over a year old already but after the magic you and Grant worked - I've never seen so many heads turn before.

I'm going to wash it with a dirty dish cloth now using a single bucket so you guys can do it all over again next weekend !

Cheers

Wusman
04-01-2009, 03:54 PM
calypso
Administrator


Posts: 1,454
Joined: Jun 2008
Reputation: 2
RE: Mobile-Image : Sprint Blue Challenge (90+ Pics)
Great work. That colour is beautiful.
04-01-2009, 04:02 PM
Carn
Waxon Sponsors


Posts: 2,724
Joined: Jul 2008
Reputation: 6
RE: Mobile-Image : Sprint Blue Challenge (90+ Pics)
Thanks TheWusman, was terrific having you round and sharing in your enthusiasm for the work we did on your car

---
David : 083 642 2118


www.mobileimage.co.za





04-01-2009, 04:45 PM
freerider
The Founding Father


Posts: 1,845
Joined: Jun 2008
Reputation: 2
RE: Mobile-Image : Sprint Blue Challenge (90+ Pics)
Awesome work guys! and great looking at so many pics

must have taken forever to make this post

---
freerider AKA don




04-01-2009, 05:55 PM
Starvekos
Official Detailer


Posts: 443
Joined: Jul 2008
Reputation: 3
RE: Mobile-Image : Sprint Blue Challenge (90+ Pics)
Dave, again thanks for taking time to document your detailing jobs. You and Grant have helped reduce my detailing learning curve by posting detailed accounts on products and equipment used.

The car looks awesome and it's great to get a comment from an owner of the forum.

And congratulations on finally enticing a fellow resident to enlist Mobile-Image.

User(s) browsing this thread: 1 Guest(s)